Recommended Social Media Marketing Course Online
Educate yourself with the best practices of social media marketing and strategies with the online course from Growthacad, one of the top digital marketing institutes in India and in Pune.
Find out how to use and implement social media tools and tactics to enhance your online media presence. Become familiar with different social media techniques, brand awareness, content creation, influencer marketing schemes, and more. 
Start Your Social Media Marketing Career With GrowthAcad
In 2018 buffer claimed that only 29% of the total digital marketers were able to use social media marketing effectively. Today, more and more businesses are using social media platforms to create urgency of purchase in consumers' decision-making. The social media marketing course developed by Growthacad is the one course you need to freshen up your social media skill set.  This course is designed to help you achieve two of the main objectives. It gives you an understanding of social media tools and the working of content marketing. Furthermore, after the completion of the course, you will be able to build a complete social media marketing strategy from consumer insights to the very end of justification metrics.
Our Cohort-Based Social Media Marketing Course Syllabus
With the help of our coherent-based social media marketing course, you will be a champion in shaping the conversation around your business. With a suitable syllabus, you can build an effective social media strategy that will expand your inbound marketing efforts as well as build brand awareness. Let's check out what you will learn in each module. 
Social media is a more accessible and oftentimes more convenient way to get the required information, provide the information and even communicate on social channels. Both the business and the customers can connect with each other to make good use of the platform for both their benefits. Social media has become a go-to medium for people to interact with, and with this module, you get to understand how to make viral posts depending on different platforms. 
What you'll learn:
Facebook marketing 

Twitter engagement techniques 

Pinterest management 

LinkedIn post boosting 

Instagram handling 
With the use of proper planning, you will be ensured to have more fruitful social media efforts. It will also provide assistance to broader your business goals. With strategizing and planning, you will learn how to outline your business goals. So you can work backward in order to create posts that will reinforce your business ethics and brand value on social media.
What you'll learn:
Social media strategising 

Social media post planning 

Targeting audience 

Strategies to create better content
From these social media course certifications, you will learn how to come up with an impactful content strategy for Fb, Insta, Twitter, and LinkedIn. We will teach you how to define a goal that will be used for measuring the success of your strategy. In this particular module, students will be taught the most crucial content marketing concept, which is strategizing your social media content. The content needs to be made out in the open. That includes involvement, feedback, and the direction of your audience. 
What you'll learn:
Finding the perfect audience persona 

Brainstorming ideas 

Keyword planning 

Formatting the content 

Outlining the content tactics
Module 4: Setup & Optimization
From this module, you will optimize the content to make it stand out from the rest of the competition. Both the setup and the optimization are helpful to get followers and subscribers and bring conversions to your social platforms. With this module, you will learn how to increase brand awareness by making your content viral and enhancing user engagement. Grow the influence of your brand on customers. You will be taught how to target different demographics in order to uplift the brand awareness in a particular group of people. With the optimization, you will be able to provide your social media pages with a unique presence and a personality of their own. That speaks volumes for your brand. 
What you'll learn:
Selecting the color scheme for the post

How to start a conversation

Optimization of hashtags

Redefining of content for multiple platforms 

Tips on creating buzz

How to use external links
Module 5: Understanding Content Creation Tools
In order to be a successful social media marketing individual, you need to have a good grasp of content creation tools. There is a ton of content present online, but with the proper tools, you will be able to create platform-specific content. From these tools, an individual is able to create a large amount of relevant content for the right audience in a short time. From these social media tools, you will be able to generate trending memes, videos, images, and other social media-related content. 
What You'll learn 
Moz keyword planner 

Canva

Pixlr

Pixabay

Trello
Our expert faculty will show you how to optimize social interactions via automated tools. The automation includes scheduling social posts, republishing content on various platforms, automating replies, and adding AI chat boxes for incoming messages. In this self-paced course, you will learn all the basics of automation tools. Moreover, in this module, we will show you how to find the peak audience time from these tools for maximum conversion. 
What you'll learn 
Automation tools 

Strategize to optimize content 

Social media content handling 

Understanding social media marketing activities.
Module 7: Insta Growth Marketing
From this module, you will learn the best techniques that work for the improvement of your Instagram metrics. In addition to this, this online training course in India will help you perform scalable execution. You will be taught how to do a growth experiment to improve the Instagram metrics of your account. 
What you'll learn 
Focused analytics 

Scaling the results

Growth marketing experiment 
Module 8: Linkedin Growth Marketing
For a business that needs to be on top of its game, LinkedIn is the first social media they need to take care of. Many companies put all their efforts into the big three. They are great for reaching your target audience. But excluding your business on LinkedIn could be a massive disservice. LinkedIn as a social platform generates 227% more effective leads than Facebook and Twitter. As a result, from this module in our online classes, we will showcase how to boost your business from LinkedIn marketing. 
What you'll learn 
How to use perfect hashtags 

LinkedIn profile vs. LinkedIn page

Finding the best LinkedIn post length. 

How to keep the publishing schedule constant
Module 9: Twitter Growth Marketing
When it comes to advertising on Twitter, it can help you with growing your audience, promoting the products, driving traffic to your website, and more. In addition to this, you can even use it for gaining new followers on the platform. With the help of Twitter Ads and other marketing techniques, it becomes easier for you to target a specific set of audiences. The default tool comes with a detailed analysis of your campaign results. In this module of the content marketing course, you will go through all the necessary steps of learning to master Twitter marketing. 
What you'll learn 
How to find meaningful followers 

Measuring your success 

Customizing your brand and profile

Creation of Twitter list 

Hosting a Twitter chat
Module 10: Getting started with FB and Insta ads
Every form of marketing is built on human relationships. Social media has long been used to make relationships grow between customers and companies. With the use of Fb and Instagram Ads, you can increase your presence on these platforms in a short time. You will learn social media management tools to track down your key performance metrics (KPIs). This is one of the essential skills to know for a social media marketer. 
What you'll learn 
Building brand authenticity 

How to grow the audience 

Generating unique content at scale 

Learning how to see through tons of stats
Module 11: Analytics & Reporting
From this module, you will be able to generate, analyze and recommend suggestions to improve the overall social media marketing strategy. An understanding of analytics is essential to measure the success of your work. On the other hand, you must know how to quantify the results and put them in a proper format for reporting. This one is the last module of our content marketing online course. But this module has tons of advantages for you to grasp.
What you'll learn 
Facebook analytics 

Instagram Insights 

Twitter management 

Progress reporting
Module 12: Job Search Readiness (Bonus Module)
Once you have completed all the modules of the social media marketing course, we will bring you one bonus module that will help in finding you the right social media marketing job. Here we will showcase how to find the right clients for your experience and how to negotiate your salary based on the knowledge and skills you have. The process of Job readiness is something every student must get in addition to the placement assistance. 
What you'll learn 
Finding the perfect job opportunities 

Creating the proper resume for the job

Questions to ask

Interview preparation
Meet Your Digital Marketing Mentors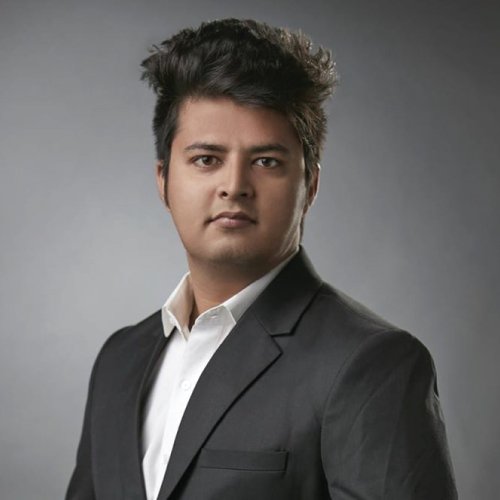 The man of the hour, Harshit Gupta, is one of the most well-known personalities in the Indian digital marketing industry. From the very beginning of his career, Harshit aimed to find ways to make a business profitable. There are tons of marketing ideas that are taking shape in his mind. According to Harshit, the entrepreneurial skills he got ran in his blood. He has been able to provide fantastic marketing results to some of the top companies in the world, and he is coaching the brilliant minds of India. To take them to the next level of understanding the cores of digital marketing. 
Why GrowthAcad Is The Right Place To Start Your Social Media Marketing Career
Ten years ago, nobody thought social media would be such an essential part of the growth of the business. That entire career would revolve around community building. The field of social media platforms is thriving with the increase in the importance of organic and paid marketing leads. In our social media course certifications, we take good care of students and make sure they are able to grasp each and every aspect of social media marketing in the given time frame. Let's see what benefits you get when you start a social media marketing career from our courses. 
Cohort Based Courses
Digital Marketing Experts
Be Part Of A Global Community
Get Hands-On Practical Training In Digital Marketing
Become An Internationally-Recognized Certified Professional
Updated & Relevant Curriculum
Cohort Based Courses
From our cohort-based courses, you will have a much better success rate because of interactions and accountability with other students. You get to ask your questions straight to our instructor, and you can even ask them from your coursemates as well. This gives you a sense of community-based learning and a purpose which is often missing when you are enrolled in an online course. 
Digital Marketing Experts
Be Part Of A Global Community
Get Hands-On Practical Training In Digital Marketing
Become An Internationally-Recognized Certified Professional
Updated & Relevant Curriculum
There are a lot of things that Growthacad does differently; one of them is providing students with placement assistance. In addition to this, the training institution works on the principle of cohort learning. On the other hand, the certifications you will be doing throughout the course are industry-recognized certificates.
For more information on the course, fee makes sure you connect with us on a phone call or via email. Our experts can help you pay the course fee in the best way possible. So the course fee doesn't come as a burden to you. 
FAQs For Course Fees and Payments
The prices of our courses are pretty genuine and competitive in the current market. It is the best plan for the SEO course and for more information you can get in touch with us via mail or a phone call. 
If you want to make the payment of the SEO online course via installments, then our customer care will help you find the best option for you. Get in touch with us to know how to pay easy installments for this course. 
FAQs For Training Certification And Placement Assistance
Yes, mentioning the Growthacad certificates is necessary for your resume, as it gives the authenticity of your knowledge. Growthacad is a well-known digital marketing training institute in India. We have tie-ups with companies present in PAN India. As a result, mentioning our certifications will up your chances of getting through the job interview for sure. 
We provide placement assistance to our students when the course is at its finishing stage. In addition to this, we have our own network that will help you in fixing the interview calls from the MNC present in India. On the other hand, we also run placement drives at our digital marketing institute. We will also teach you how to be presentable and make a super impressive resume for the upcoming interview. All of this assistance will surely land you your dream job.