Performance Marketing Certification Course
The comprehensive meaning of performance marketing is to find the perfect combination of paid advertising and brand marketing. This is a win-win marketing technique for both the retailers and merchants as it allows them to target campaigns in a more strategic and high ROI way. At Growthacad, you get to learn some of the most advanced online performance marketing techniques from Growthacad's performance marketing courses to help you shine in a professional marketing career of yours. 
What Is Performance Marketing?
Performance marketing is one of the digital marketing strategies which is driven by results. It is ideal for those companies who are looking to find a way to reach their audience on a large scale. Because their business runs on the basis of how users interact with the content. Given below are the three reasons why you should consider performance marketing as your career option. 
Performance marketing is the one field that is constantly evolving as more platforms are introduced for marketing. A performance marketing individual is always on the lookout for the latest trends and seeing how they will impact the website's discoverability. 
Performance Marketing Is The Future
Traditional marketing still has its place in some areas. Performance marketing is taking over in most cases due to affordability and analytics. With the use of performance marketing, companies can pinpoint exact locations from where they are getting new customers. Or which tactics are providing them with the highest ROI. 
The demand for performance marketers is rapidly increasing; at this point, more than 4 billion active users are present on the internet. This exponentially increases the chance of performance marketing being hired. So they can help companies be seen on the internet. 
Our Cohort-Based Performance Marketing Course Syllabus
Our online performance marketing certification course is one of the most popular courses among students who want to learn digital marketing and its core concepts. Our cohort-based learning helps students grasp every single piece of information with ease. Given below, we have provided a brief description of each module present in this performance marketing course. 
Module 1: Introduction to Performance Marketing
In this module of our industry-recognized certifications, you will understand and apply the fundamentals of Performance Marketing. Here we will show you that you don't need to rely on guesswork anymore and lump-sum amounts for the ads. We will showcase how you can define the exact budget you need to gain the specific results for your marketing campaign. 
What you'll learn 
Fundamentals of performance marketing

Introduction to setting a marketing budget 

Benefits of performance marketing 

Industry research 
Module 2: Digital Media Planning Strategy: developing budgets and associated buying
In this module, we will showcase how to build a digital media strategy and create a budget for your upcoming campaigns. This is an essential concept in a performance marketing course as it helps you in allocating funds in the right place. To grow your business in a sustainable fashion. 
What you'll learn 
Understanding the marketing goals 

How to invest in marketing automation 

Keeping the digital marketing budget flexible 

What are the inclusions in digital marketing
Module 3: FB Ads: Basic to advance ads creation, planning, execution, and analysis
Facebook advertising works on the ubiquitous mode of Pay-per-click. This has become the single most extensive advertising system on the internet. In our performance marketing course, with placement assistance, we will showcase how you will be using ads creation to micro-target the exact audience and more. 
What you'll learn 
How to find the better ad types 

Implementing business-specific goals

Accessing powerful in-depth data 

A/B ad testing for performance growth
Module 4: Marketing funnel creation and optimization
A performance marketing funnel is built by the combination of marketing tactics that are used for the generation of traffic for your business. A marketing funnel is quite essential when you want web traffic to turn into a customer. In this module of the online performance marketing certification course, we will help you create your own marketing funnel, which is grouped in different stages such as foundation, floodgates, and the actual sales funnel. 
What you'll learn 
AIDAA formula for building a marketing funnel

Defining the digital marketing sales funnel 

Optimizing sales funnels 
Module 5: Fundamentals of copy-writing: developing high-performance adverts ( 1-2 tools)
As a performance marketer, your ability to come up with persuasive content can make or break the success of your sales. Even as a business owner, you need to write tons of content to educate and build awareness. In this module of the online performance marketing certification course, we will teach you all the nooks of writing flawless copy for your website, social media, emails, and more. 
What you'll learn 
How to focus on the customer in your copy

Simplifying the use of sentences 

How to inherit urgency and scarcity in content

Tell users what they need to do
Module 6: FB and Insta ads optimization and scaling
Many digital marketers fail to achieve any good returns on their ad investment. Scaling up your Facebook ads doesn't mean you just need to increase the expenditure. It also should provide you with greater returns. And that's what you are going to learn in this module of our online performance marketing certification course.
What you'll learn 
How to increase the audience size

Expanding location targeting 

Creating the funnel

Segmenting the audience
Module 7: Leveraging ML/AI for scaling FB and Insta ads(1-2 tools)
Right now, most marketers rely on Facebook to hone a distinct audience. But the classic theory that Facebook knows its users and segments properly isn't correct. So to break this plateau and find a highly-specific audience, we teach students how to work with AI and ML-based tools. 
What you'll learn 
Scaling ads using AI

Tweaking audience location 

Refining audience segments 
Module 8: Google Ads: Basic to advanced ads creation, planning, execution, and analysis
If you are careful enough in planning and the execution, you don't need to spend significant money in order to live large on the Google result page. In this module, our industry-recognized certifications in performance marketing. We teach students how to excel in designing Google Ads for better results. 
What you'll learn 
Setting a clear objective for Good Ads 

Targeting long-tail keywords 

Optimizing the landing page 

Understanding the automation 
Module 9: Google ads campaign structure and planning
When it comes to the creation of an ad campaign, you need to set things up thoroughly from the beginning. We teach you how to find the perfect balance between planning and execution of Ads. In addition, we show you to achieve a maximum in the lowest of the budget possible and where you need to up the bidding as well. 
What you'll learn 
How to build an excellent advertising structure 

Methods to rack up a high-quality score 

Using the third party extensions 

Analyzing the results.
Module 10: Google Ads infrastructure: landing pages and tracking implementation
There is no use in putting ads if you can't track them out in the end. In this module, we help students to discover multiple ways of tracking down traffic. That is coming from Google and other forms of Ads. We show how to implement code on your website so it doesn't cause any problem and helps you in tracking with ease. 
What you'll learn 
Implementation of tracking codes 

Setting up the GTM tags 

Landing page code

Google Adwords
Module 11: Google Ads: Search, Display, and Video Campaigns
Google ads have a proven record of 50% more clicks on video-based ad campaigns. As a result, we teach our students how to create display and video campaigns. We teach how to leverage the leads and convert them into sales using optimal Google display ads for your business. 
What you'll learn 
Planning of Google search display ads 

Google Analytics suite 

How to boost traffic using display ads 

Methods to influence consumer purchasing decisions.
Module 12: Google ads: Campaign analysis, optimization, and scaling
Here, in this module, we aim to help students understand the importance of optimizing the ads campaign. With optimization, you can save a lot of money in putting your ads. A great digital marketer is one who creates ads at a much more affordable price point than his competitors. 
What you'll learn 
How to use campaign analysis 

Metrics to take care of 

Various optimization techniques 

Boosting traffic from ads 
Module 13: Linkedin Ads: fundamentals
LinkedIn is one of the oldest social media platforms to this day. LinkedIn is the most popular platform for B2-B marketing. Thus, a marketer must know how to make the best of LinkedIn Ads in order to grow their business and increase the brand value. 
What you'll learn 
How to create content for LinkedIn

Difference between LinkedIn and other social platforms 

Implementation of LinkedIn ads 

Multiple methods to find the right audience and tags
Module 14: Job Search Readiness ( bonus module )
This one is an extra module that we put in our performance marketing certification course. With our job search readiness module, you will be taught how to present yourself in interviews. In addition to this, we teach you how to give answers properly if you don't know the answer. What should be done to have a positive impact on the interviewer? 
What you'll learn 
We help you in building a network 

Interviewing skills 

Career mapping 

Developing examples to showcase your skills
Why Should You Choose GrowthAcad For Performance Marketing Training?
The world of the internet has changed forever due to how consumers browse and buy products. On the other hand, it has also altered the way businesses advertise and sell their products online. With the use of performance marketing, a marketer can put himself one step ahead of others. To give his company the boost of sales it needs from the world of the web. Given below are a few reasons why choosing a Growthacad for your performance marketing training will be the best decision you have taken till now. 
At Growthacad's online performance marketing certification course, we believe in teaching students the way they want. We give equal attention to each of the students present in the training course. As a result, our training course doesn't include a massive number of students per batch. We teach students in a group of small batches, so everyone gets the full attention of the trainee, and they get one-to-one interaction with students as well. 
Learning Of Latest Digital Marketing Techniques And Tools
As a performance marketing individual, you need to be learning the best of the tools and techniques that digital marketing has to offer. The field of digital marketing is constantly changing. As a result, we keep on adding new modules to our performance marketing course syllabus in order to teach students all the latest digital marketing techniques to help them secure a good job after the completion of the training. 
A Well Established Training Institute
Growacad is a well-reputed institute in the heart of Pune, and we have tie-ups with a number of companies in the city. As a result, once you have completed the course, we will help you get placed in them. In addition to this, we have some of the best lists of Alumni in the field of digital marketing. Every once in a while, we ask them to come and help our students with their doubts.
We are not just any other institute in the business, and we have been working tirelessly to provide students with the best learning opportunities and career options. At Growthacad, you are not learning from lecturers who are in the business of teaching. Our faculty members are industry-experienced individuals who have years of experience in their given fields. Thus, you are getting practical knowledge from their experience outside the syllabus. 
Online Classes With Proper Guidance
At Growthacad, we want to make sure that every student gets the proper training. No matter how far they are located from our physical office. As a result, we started online classes to teach individuals who are sitting on the other side of the country and can't come for classroom sessions. But, our online classes are the best in the business because even in our online classes, we don't have high strength, meaning students get more time to have one-to-one conversations with our faculties at any time they want during the session. 
We don't just provide theoretical training to our students, and our teaching is based on practical knowledge. As a result, once the student finishes up the training, they are ready to take up any interview which requires them to have an understanding of performance marketing. We make sure that each individual who has taken part in our performance marketing course gets placed and starts their career with the best of the companies in India and abroad. 
Meet Your Digital Marketing Mentors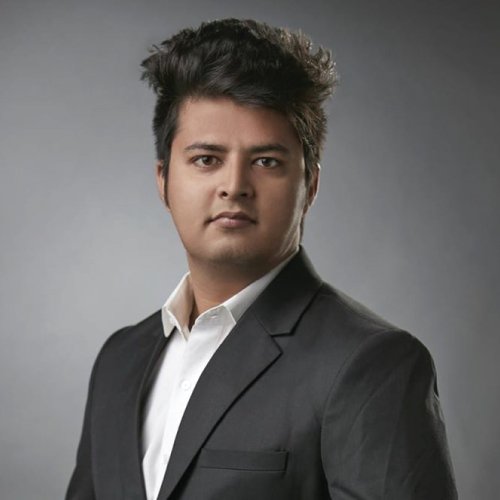 Harshit Gupta is going to be your trainee in this online performance marketing certification course. He has been a renowned digital marketer with eight years of experience and making some of the most viral ad campaigns on the internet. Harshit knows all the ins and outs of performance marketing. According to him, your digital marketing campaigns need to show the results. Otherwise, there is no benefit you are giving to your client of yours. In addition to working as our faculty, he is also working as a digital marketing consultant for some of the biggest brands in India.  Having to learn digital marketing from him is like learning the practicality of digital marketing techniques and how they implement the business. He keeps on learning new things in the field of marketing. So during his lectures, he loves to provide students with the knowledge of what he has learned and asks students to surprise him with their learnings as well.
FAQs For Performance Marketing Training Program
FAQs For Course Fees and Payments
The prices of our courses are pretty genuine and competitive in the current market. It is the best plan for the SEO course and for more information you can get in touch with us via mail or a phone call. 
There are multiple ways by which you can make the payment for the course. If you want to go with the installments, it is better to get in touch with us to find the best way possible. At Growthacad, we make sure that the fees are the last thing you need to take care of when you enroll in one of our courses. 
FAQs For Training Certification And Placement Assistance
Yes, absolutely; Growthacad's certificates are the one you should be mentioned when you are going for an interview as it gives credibility to your learning. We are one of the most renowned digital marketing institutes situated in Pune. As a result, if you are out there giving interviews, our name can help interviewers see that you have taken the learnings from a well-known and established institute. 
Sure, once you have finished this course, you will be able to get into any of the performance marketing jobs that are open for freshers. At the end of our course, we have a particular module where we teach our students how to prepare for the interviews and give answers properly. We work on their soft skills to make them presentable and confident for the interviews. So, our performance marketing course is developed to help students secure a job as fast as possible.