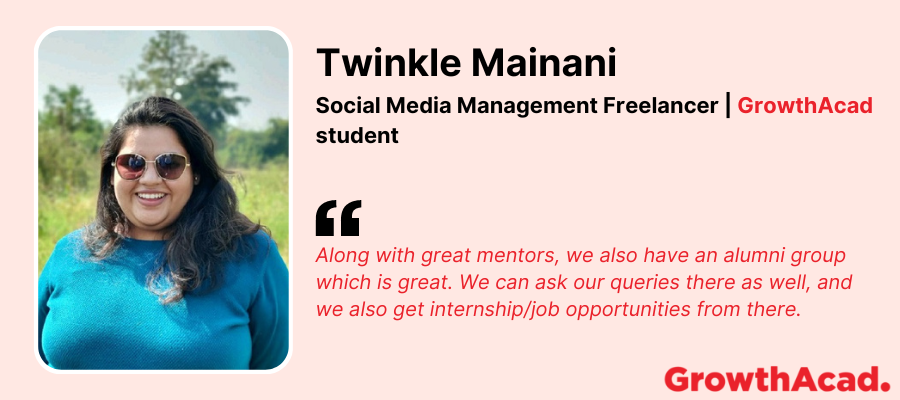 What were you doing before entering into the digital marketing field?
Before entering into digital marketing, I was a student of Bachelor in Business Administration. I had just completed my graduation and was looking to explore new options before I enrolled myself for my post-graduation degree.
What influenced your decision to study digital marketing?
I was a student specializing in marketing in college. So when I was looking out for options I thought this would be a nice course to go with as it complements my field of study.
What motivated you to enroll in the digital marketing training program at GrowthAcad?
These days it's very easy for us to do all our research. And out of the few institutes, I also booked an appointment with GrowthAcad. What motivated me to enroll at GrowthAcad was how nicely I was explained about the course in the first meeting only, with all details. That showed that the processes were properly defined. That built trust for me.
And even now after I have completed the course, I have had many doubts and queries and all of them have been solved appropriately. I got an amazing mentor who's always available to guide us.
What were your expectations when you enrolled in the digital marketing training program at our institute?
The training program met all my expectations. What exceeds my expectations is that after completion of my course also, I have been in touch with Govind sir and Nikita ma'am. They have helped me throughout. I know I can approach them anytime I have any problem. Along with that we also have an alumni group which is great. We can ask our queries there as well, and we also get internship/job opportunities from there.
What was your favorite aspect of the training program?
My favourite part was all the tools and campaigns we were made to practice in the class itself. Which turned out to be extremely beneficial for me when I was doing my internship.
Any books or resources that you'd like to recommend to newbie digital marketers?
A few people whom I follow for insights are Latasha James (SMM), Apurv Singh (SEO), Pranita Bajoria(Social Media Content), and Vedika Bhaia (LinkedIn).
Since completing the training at GrowthAcad, how has your career progressed?
Immediately after course completion, I got my internship as a Social Media Intern. I quite liked all my work there but at the same time realized I want my own creative freedom. So, after 3 months, I resigned to become a freelancer.
I have just started, and I already have 2 clients. The training and insights I got from GrowthAcad helped me so much. I know what I am doing and why I am doing the respective work.
What are some of the specific skills that you learned during the training that you have been able to apply in your job or business?
The hands-on training that we have received has made it super easy for me to do my day-to-day tasks. I already know all the important tools required for smooth functioning.
How would you describe your time at the GrowthAcad Institute?
It was certainly pleasant. I loved how our classes were so interactive. Sir was always up for an open discussion. The environment was such that I was never scared of asking questions as well.
Is there any advice you would give to new students at the GrowthAcad?
A few pieces of advice from my side would be:
1. Ask questions: You have to be clear with your concepts. What will you do with the tools if you don't know where/why to use them.2. Never stop researching/learning new things: This is a dynamic career, so you have to keep up with all the new things in order to be relevant.