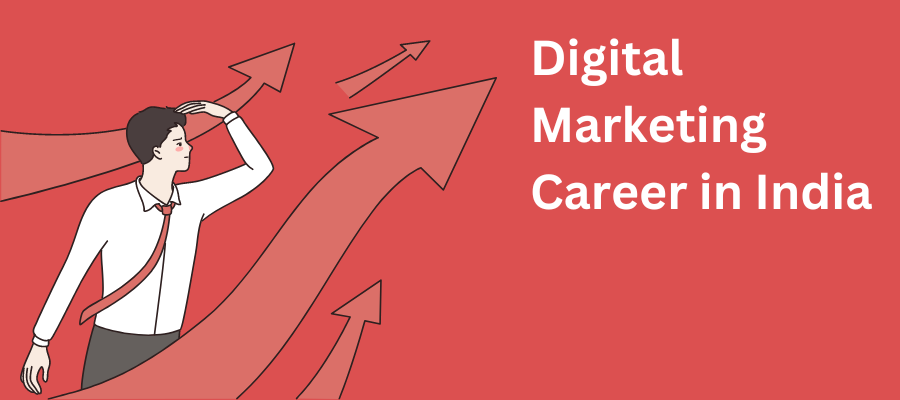 Do you have questions regarding how to start and grow your career in digital marketing in India? Whether you're a college graduate, freelancer, or even a professional seeking change in your career, this guide will help you.
In this guide, I have answered 20+ digital marketing career-related questions including:
Before you jump into the guide, check out the digital marketing syllabus of GrowthAcad which includes all the skills required to help you become a successful digital marketer in India.
Is digital marketing a good career?
Yes, digital marketing is considered a good career option, especially in India.
Demand:
Here's the global demand growth (+152%) of digital marketers in the last 5 years: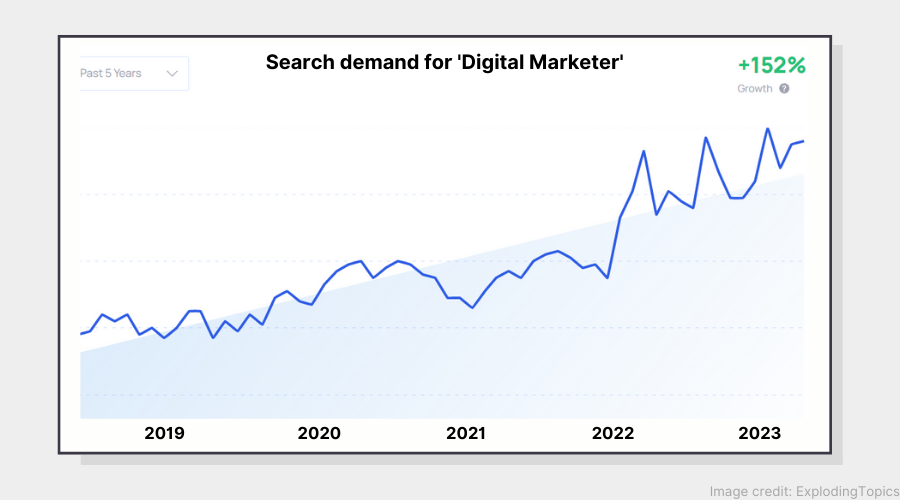 Salary scope:
A digital marketer in India makes 3 LPA on average. But that just gives a vague idea. So, let's break it down to understand better.
In fact, a digital marketing intern with a little experience can earn 2 LPA, which is 20k more than the average pay of an intern (considering all jobs) in India. It is a good start for freshers. They can take more money home even when they're learning.
As you gain more experience and develop new skills, your chances of getting a higher salary increase significantly. As a Digital Marketing Specialist, you can earn more than 4,50,000 INR annually. Eventually, you can become a digital marketing manager and withdraw a salary between 6.5-18.1 LPA.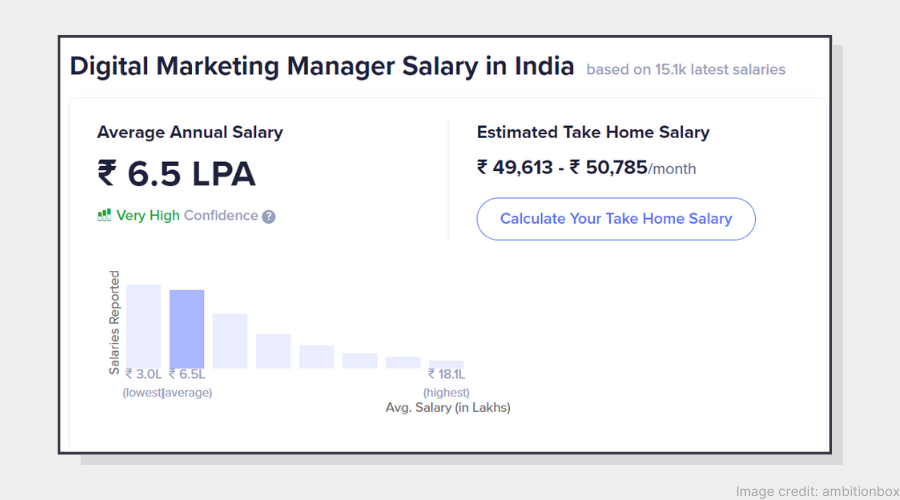 Jobs available:
However, a high salary means nothing if there are not enough job opportunities and competition is tough. Fortunately, that's not the case with digital marketing. According to LinkedIn, more than 32,000 digital marketing jobs are available in India.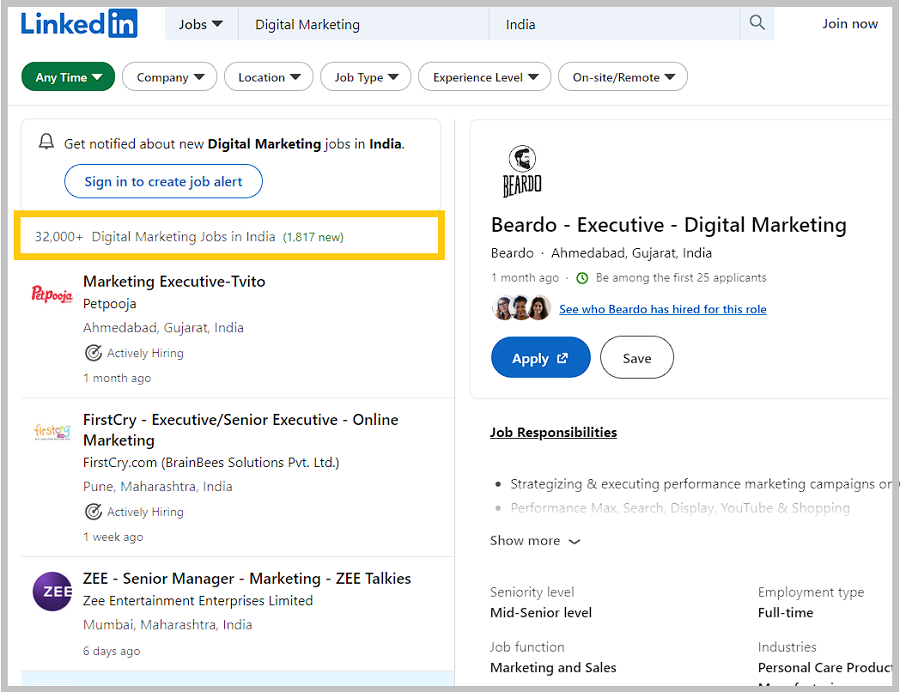 On Indeed, you can find over 17,000 digital marketing jobs with high pay in India.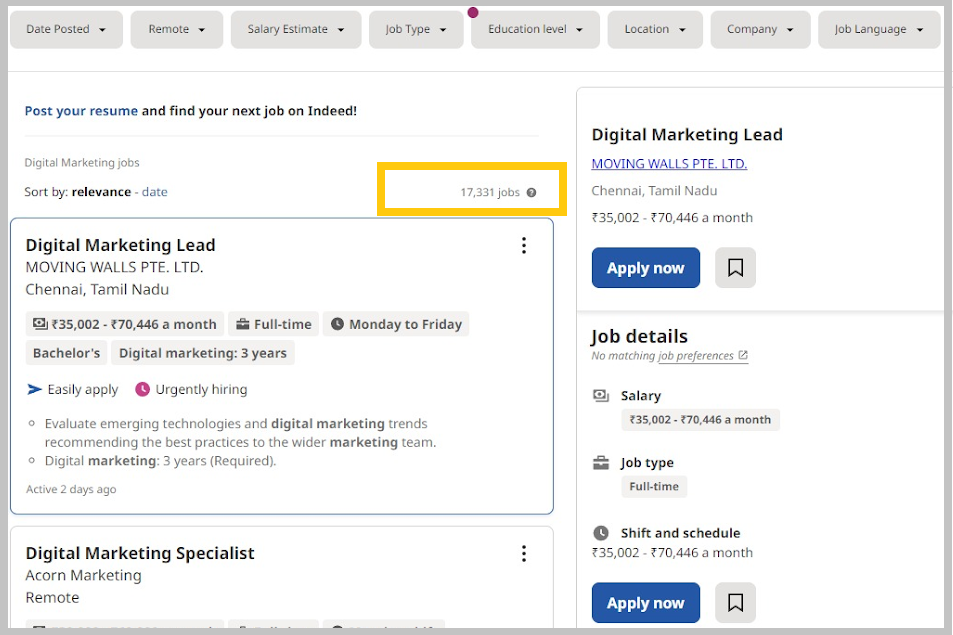 This indicates that digital marketing is a good career with high-paying jobs and multiple job opportunities.
What is the salary of a digital marketing fresher in India?
If you are a fresher or someone transitioning from a different field into digital marketing, the first question you ask is – how much do digital marketers earn? The average salary of a digital marketer in India is 3 LPA. However, you need to gain some experience before reaching that pay grade.
Digital marketing is a rewarding career. The more skilled you are, the more money you can make, even if you are fresher. For a complete beginner with zero experience, digital marketing internships start with an in-hand stipend of INR 8,261 – 9,218 per month.
However, with a few months of experience, you can expect to receive INR 13,765 – 15,226 monthly. The salary grows with your designation, and a digital marketing manager can easily make INR 7 lakh annually.
Refer to this table for average digital marketer salaries in the major Indian cities.
| | |
| --- | --- |
| City | Avg. annual salary of digital marketers |
| Bengaluru | ₹4.4 lahks |
| Mumbai | ₹3.6 lakhs |
| Delhi | ₹2.88 lakhs |
| Kolkata | ₹3.45 lakhs |
| Nagpur | ₹2.05 lakhs |
| Pune | ₹5.08 lakhs |
| Hyderabad | ₹3.19 lakhs |
| Gurugram | ₹3.07 lakhs |
| Chennai | 2.62 lakhs |
| Noida | 3.07 lakhs |
How do I begin a career in digital marketing?
Digital marketing is a lucrative career choice. It's easy to enter this field, but you need a proper roadmap to succeed in your digital marketing career.
Step 1. Learn the Basics
First, you must understand the basics of digital marketing, including what digital marketing is, its types, and career opportunities. It might take you months to make sense of most free courses and videos out there. Hence, the best way to learn digital marketing basics and develop the required skills is to join a course or a training program.
GrowthAcad has trained 1000+ students in different digital marketing skills and provided them with placement support. You will not just learn the basics and tools but also acquire the right skills to get job opportunities.
Step 2. Learn to use the right tools
There are thousands of digital marketing tools available in the market. Each tool is attributed to a specific field, such as keyword research tools for SEO or funnel builders to capture and convert leads.
Anybody can learn to use these tools. And they work similarly for their use cases, more or less. For instance, you can use Ahrefs or Semrush for keyword research. There's not much difference between them.
To become a digital marketer, you must learn to utilise your biggest asset – the mindset. You must develop the thought process and mindset of a digital marketer. Once you do that, you can use any specific tool to help you perform the tasks.
At GrowthAcad, our cohort-based digital marketing courses include training and demo of important marketing tools.
Here are some of the digital marketing tools trained by the GrowthAcad digital marketing institute.

Step 3. Build a Portfolio
There are two ways to do that. You can either work as an intern or work on your own project.
Working on your own project as a beginner is much better as you are in complete control of the data. You can experiment and learn what works and what does not.
However, doing an internship is better if you're unsure about what you want to do. You will get the required guidance and a proper workflow structure.
Keep adding all the projects you worked on to your portfolio. To grow your digital marketing career, you need a strong portfolio that shows your skills and experience with diverse projects.
You can also create social media accounts and share your work there. If you can grow a following, you can show those numbers as proof of your work.
Some of the best examples of personal portfolio/project websites are:
Step 4. Keep Networking
You can start networking from social media. Build a LinkedIn account and reach out to people in a similar niche there. You can also attend digital marketing events.
One of the reasons why GrowthAcad is a top digital marketing training choice among professionals is the global community participation. Students and learners at GrowthAcad join the exclusive global marketing community.
"GrowthAcad's motive with the digital marketing training program is to help students learn from the digital marketing community.

As a result, each month, we bring you a spokesperson from the digital marketing industry to demonstrate how they perform digital marketing strategies. From these sessions, you are going to learn from the industry experts and soak in the tips they use during live campaigns to get a better Return On Investment (ROI)."

– Harshit Gupta, founder of GrowthAcad.
Career opportunities in digital marketing
One of the best things about choosing digital marketing as a career is that you don't depend on just a job. There are so many options.
1. Start as an Intern
Once you learn the skills and understand the basics, you can start working as a digital marketing intern at an agency. As an intern, you work under a specialist and learn to use your skills properly. You also receive a fixed stipend for that.
2. Get a job as a Digital Marketer
Once you finish your internship and get some experience, you can join a digital marketing agency as an executive or analyst. As a digital marketer, you will be responsible for running various social media, ads, and organic campaigns for your company. The pay is also quite good.
3. Work as a Freelancer
Once you gain 2-3 years of experience, you can work as a freelancer. You can manage various digital marketing campaigns for multiple clients and help them grow their businesses. As a freelancer, you are your own boss and work on a flexible schedule.
4. Work as a Consultant
After 3-4 years of experience, you can start offering consulting services to multiple businesses. You will conduct audits, build strategies, and help them with the execution. You can also work as a remote consultant with a digital marketing agency and help them manage their clients.
5. Start Your Own Agency
Once you have enough experience as a freelancer or consultant, you can start your own digital marketing agency. You can hire and train people to provide a complete suite of digital marketing services to multiple clients.
Why choose GrowthAcad's digital marketing training program in Pune and Nagpur?
Here are some of the key reasons why join GrowthAcad's offline and online digital marketing courses:
100% placement assistance after course completion
Small batch size of up to 8 students to ensure personal attention
Focused on Practical, hands-on training
Trainers with 10+ years of digital marketing experience
15+Certifications by Google, Facebook, Hubspot & more
Industry-recognized certifications
Lifetime access to our LMS software
Updated with the latest modules like AI for marketing, data analytics, and so on.
Pune branch: Join Digital marketing classes in Pune (4.7/5, based on 300 reviews)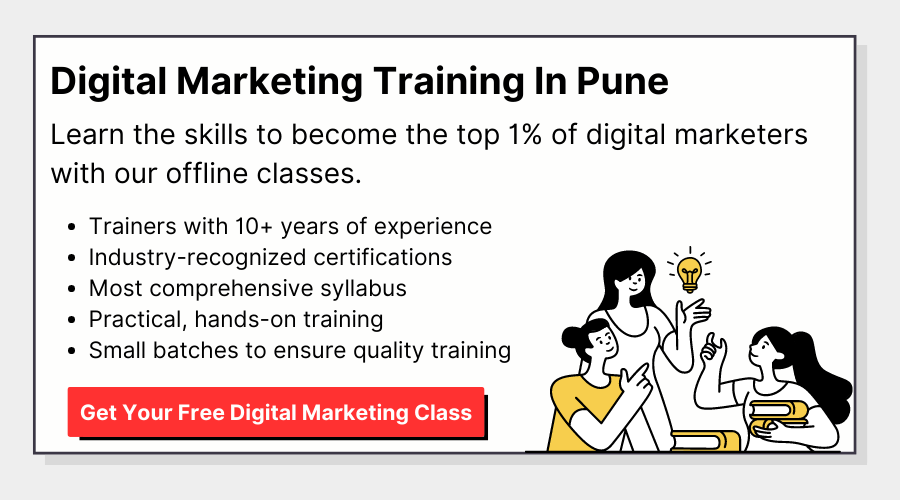 Nagpur branch: Join Digital marketing classes in Nagpur (4.9 out of 5, rated by 390+ students)
Top digital marketers in India to follow online
Here is a list of top digital marketers in India you must follow if you want to pursue a career in digital marketing and learn new tips and tricks from their content.
1. Harshit Gupta
Harshit Gupta is a new-age digital marketing and LinkedIn growth trainer. He has trained over 10,000+ mentees and shares growth-hacking and digital marketing strategies on LinkedIn..
Reach out to Rishi Kapal on LinkedIn.
2. Rishi Kapal
Rishi Kapal is a Stanford Lead alumni and managing consultant at MindActiv Consulting Pvt. Ltd. He shares content related to financial literacy, careers, communications, emotional wellness, and fitness.
Reach out to Rishi Kapal on LinkedIn.
3. Govind Chandak
Govind Chandak is the business head of GrowthAcad. He has worked with 27+ brands, like Flipkart, OLA, Airtel, Titan, Tanishq, and Kotak Mahindra. Govind shares content related to digital marketing strategy, consultancy, and entrepreneurship.
Reach out to Govind Chandak on LinkedIn.
4. Kapil Thorat
Kapil Thorat is a digital project manager at Tru Performance Inc. and a trainer at GrowthAcad. Kapil talks about brand development, package negotiation, data management, and scrutinising for the next-level action plan. He also shares content related to the latest trends, such as AI.
You can follow Kapil on LinkedIn to learn more about him.
5. Deepak Kanakaraju
Deepak Kanakaraju, popularly known as 'Digital Deepak,' is the CEO & co-founder of PixelTrack and LearnToday. He has 10+ years of digital marketing experience and has worked with brands like Razorpay, Instamojo, and Practo. He shares content related to digital marketing, personal development, and entrepreneurship.
Reach out to Deepak on LinkedIn.
6. Priya Florence Shah
Priya Florence Shah is an online branding and digital marketing consultant. She was also mentioned as one of the most followed Indian digital marketers in the 2019 Social Media Survey Report. Priya shares content related to self-care, mental health, and content writing tips to inspire and empower individuals to become financially and emotionally independent.
Follow Priya on LinkedIn.
What is the future of digital marketing in India?
Digital marketing is a growing industry. In 2021, the digital marketing market size was INR 21,353 crore, which was 35.3% higher than INR 15,782 crore in 2020. It is currently expected to grow at a CAGR of 29.5% and reach INR 35,809 crore in 2023.
The industry looks promising. There are more than 600 million smartphone users in India right now, and the number is expected to grow in the coming years. Post-Covid era and eCommerce trends resulted in a rise in online transactions.
The following chart indicates the number of new hires in marketing month-wise. As you can notice, the numbers keep increasing year after year.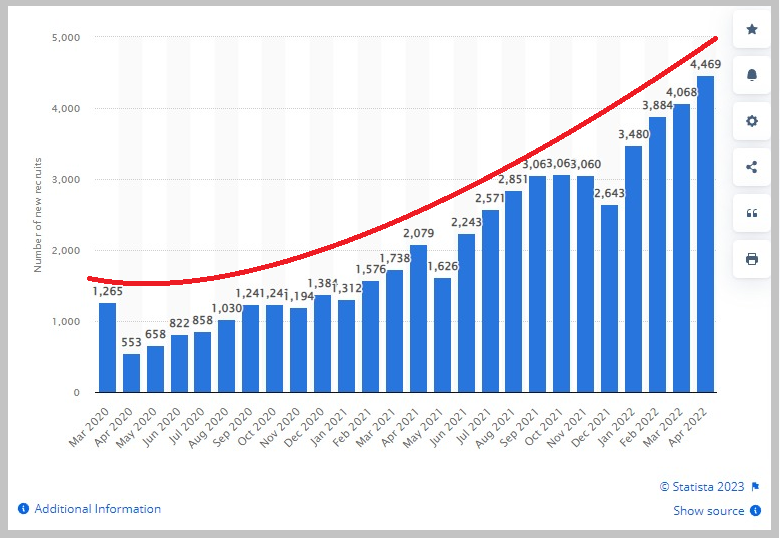 Why choose digital marketing as a career?
There are four main reasons to choose digital marketing as a career.
1. Booming Industry
Digital marketing is a rapidly growing field. More digital marketing jobs are available every year as more and more people are transitioning to entrepreneurship. There is an ever-growing need for good digital marketers.
2. Multiple Roles Available
Digital marketing is a vast field with multiple channels. A business needs to utilise all digital marketing channels to scale, and they prefer to hire specialists for these roles. You can choose to become a specialist in your preferred channel, such as:
Email marketing
Copywriting
3. Remote Work Opportunities
As a digital marketing expert, you can choose to work from anywhere in the world. As more companies are opting for the work-from-home (WFH) model, many are still against it.
However, digital marketers have flexibility as they can do their job from home with only a laptop and internet connection. Hence, you have a higher chance of finding a remote job in digital marketing.
4. No Prior Education Required
Anyone can enter the digital marketing field, and you don't need a degree for that. The clients expect results, and all they need to hire you is a good portfolio.
Pros and cons of digital marketing
Like every other industry, digital marketing has its pros and cons.
1. Pros
It is a growing industry with multiple job opportunities available in the market.
Most jobs in digital marketing are flexible and remote. As a result, many companies will allow you to work from home.
There is a huge demand for competent marketers who can get results. If you are good at getting results, you will never be without a job.
You can work as a freelancer. There are multiple freelance options available, such as content writer, email marketer, copywriter, SEO, etc.
The pay rate is good even for freshers. Even as a complete beginner, you can start with a package of 1.2 LPA.
2. Cons
Competition is high. As the industry is developing, more marketers are entering the market. You must be competent enough to get hired.
There is always something new to learn. You have to keep yourself updated with the new social media trends, Google algorithm changes, etc.
It can be time-consuming and stressful when you don't get the desired results.
How to start digital marketing from home?
Digital marketing is one of the careers that you can start from the comfort of your home. You don't need to get traditional education to become a digital marketer. You only need some technical skills and a good internet connection.
You can start by exploring digital marketing as a subject online. However, there is a lot of information that can be overwhelming.
Hence, it is recommended to take a course or join a cohort-based training program like GrowthAcad.
You can start your own blog to implement the skills you learn. You can also start an eCommerce store and sell your products online using digital marketing techniques.
New businesses and digital marketing agencies often seek specialists to join their teams. Once you have enough experience running your blog/store, you can try applying for remote job opportunities.
Best digital marketing companies in India where you can pitch your resume?
Following are the best digital marketing agencies in India to work as a digital marketers.
1. Oxedent
Oxedent is one of the top digital marketing companies in India. They have worked with clients like UNICEF and Tata Housing.
2. Growth Hackers Digital
They are a performance marketing agency that mostly works with financial startups and MNCs. They have worked with clients like Decathlon, ICICI Bank, and Tata Communications.
Apply for jobs Growth Hackers Digital
3. Conversion Perk
They specialise in PPC and work with both startups and established brands to scale their PPC efforts. They also offer social media marketing and SEO services. Clutch has named them one of India's leading business services providers in 2022.
Apply for jobs at Conversion Perk
4. iProspect
Founded in 1996, iProspect is a global digital marketing agency with a presence in more than 50 countries. They have served 2600+ clients so far and currently employ 8000+ experts.
5. Uplers
Uplers offer a complete suite of digital marketing services. They have worked with esteemed clients like Disney, National Geographic, Oracle, Facebook, DHL, and Amazon. They're actively hiring on LinkedIn, and you can apply for a role anytime on their site.
What are the important digital marketing statistics in India?
The average salary of a digital marketing manager in India is INR 6.5 LPA.
Mumbai and Bengaluru offer the highest average salary for a digital marketing manager, i.e., INR 8.5 LPA.
Search Engine Marketing/SEM Specialist is the most prolific job role, with an average salary of INR 13 LPA.
In 2022, approximately 97.7k people were working in the digital marketing industry in India.
The digital marketing industry is expected to grow at a CAGR of 30.2%, which means there will be more job opportunities and business growth in the industry.
What is the required digital marketing job qualification?
There is no minimum qualification to become a digital marketer. Most businesses looking for a digital marketing professional are not looking for someone with a degree but someone who can actually, solve their problem and help them scale.
You can easily find a digital marketing job if you have a good portfolio and the required skills. However, many businesses will need you to have at least a bachelor's degree to apply for a position with them. You can either ignore them or get a bachelor's degree so you can apply to those jobs as well.
What does the career path of a Digital Marketer look like?
A digital marketer career path looks like this in an agency.
1. Digital Marketing Intern
Start your career as a digital marketing intern. In this role, you learn to do most basic tasks like keyword research, exporting data, etc.
2. Digital Marketing Executive/Digital Marketing Analyst
A digital marketing executive/analyst role is not too different from an intern. You have to do tasks like creating a keyword strategy and launching the campaigns.
However, your responsibilities increase with this role. You are involved in the strategy and execution part as well.
3. Digital Marketing Specialist/Digital Marketing Expert
In this role, you are responsible for devising marketing campaigns after market research and competitor analysis. You create the strategy and assign the jobs to executives, analysts, and interns.
4. Digital Marketing Manager/Digital Marketing Lead
As a digital marketing manager, you are responsible for all the marketing campaigns. You have to review all the strategies and provide your input on making the campaigns more effective.
You must manage all the other marketers and provide assistance wherever required to get the best results.
5. Digital Marketing Director
This is the highest role in digital marketing. You are responsible for creating and reviewing strategies. You supervise everyone in the digital marketing team and allot a budget for various campaigns.
You track the performance of online campaigns and keep a close eye on the statistics. You will find ways to optimise the performance of digital marketing campaigns.
What are the common digital marketing types?
Digital marketing is an umbrella term used for multiple marketing channels. The most common of them are:
Social Media Marketing – utilising social media platforms to achieve your branding and marketing goals by running campaigns on popular networks, such as Facebook, Instagram, and LinkedIn
Search Engine Optimisation – rank your website high on search engines by using various optimisation techniques to get organic traffic
Search Engine Marketing – running paid campaigns on search engines to increase brand awareness, capture leads, and generate sales
Content Marketing – utilising different types of content to attract, engage, retain, and convert users
Influencer Marketing – paid collaboration with influencers to leverage their credibility and promote your product/service
eCommerce Marketing – utilising various marketing channels to drive awareness and conversions for an eCommerce business
Multichannel Marketing – leveraging multiple marketing channels to engage with users in order to execute a transaction
What is the digital marketing market size in India?
The Indian digital marketing market size was recorded at $3,931.3 million in 2022. It is expected to reach $19,268.7 by 2028 if it continues to grow at a CAGR of 30.2% from 2023-28.
As per Statista, the digital advertising industry in India will reach INR 360 billion in 2023, which will be 80% higher than INR 200 billion in 2021.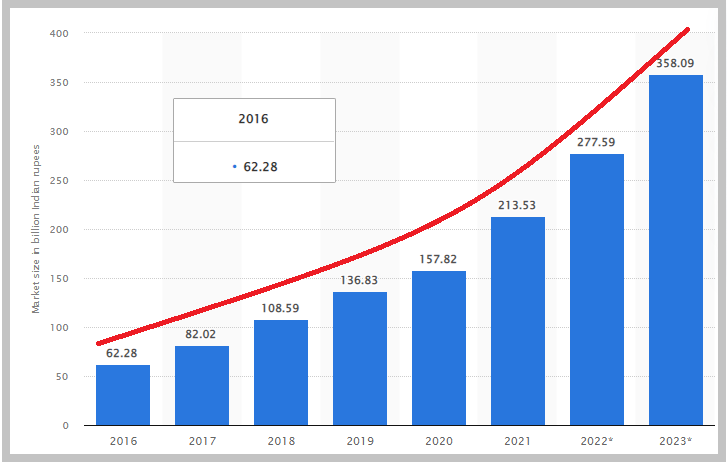 Since the pandemic, the digital marketing industry has been one of the fastest-growing industries in India. This growth can be attributed to the rise in eCommerce trends, the rising number of mobile users, and the online shopping behaviour of users.
How to start a digital marketing business?
Here's a step-by-step guide to starting a digital marketing agency.
Step 1. Develop the Skills
First, you must learn relevant digital marketing skills. Joining GrowthAcad's digital marketing training can transform you into a digital marketer from a beginner. You will learn to use the tools, approaches, and mindset required to build and grow a digital marketing agency.
Step 2. Choose Your Business Model
There are various types of digital marketing channels, such as SEO, SMM, SEM, etc. You can choose to cater to anyone, a few, or all of them.
You need a reasonable budget and a big team for a complete suite of services. It's better to start as a specialised agency or serve 2-3 channels at most. It would be easier to manage clients' expectations and generate good results.
Step 3. Find Your Niche
Niche selection can be the most tiresome task for some people. However, it is one of the most crucial. Digital marketing is a competitive space.
To stand out, you must have a niche. Then, you can create your brand voice around that niche. You can have a much better and well-defined marketing and sales strategy with a defined niche. You already know the people and their pain points you will target.
Step 4. Branding & Marketing
Put your skills to the test by marketing your services first. You need a website and social media profiles on all major platforms. Leverage different channels like SEO, SEM, and SMM to create awareness and generate leads.
You must also build a solid portfolio in your niche to build a strong case against your competitors. Leverage cold emails and cold DMs to reach out to your potential customers.
Which digital marketing course is best in India?
A good digital marketing course must teach you what's not already available for free on the internet. Therefore, the course must be taught by industry leaders and experts.
There is a lot of theory available on the internet, and many course creators are just reusing the same content. A good course must be practical so you can implement the learnings instead of memorising the theory.
The course must be cohort-based with more interactive teaching methodologies. A cohort-based course also provides you with an opportunity to become a part of a community where everyone helps everyone throughout the learning. It also enables networking.
And one course offers all the above benefits – GrowthAcad's Digital Marketing Course.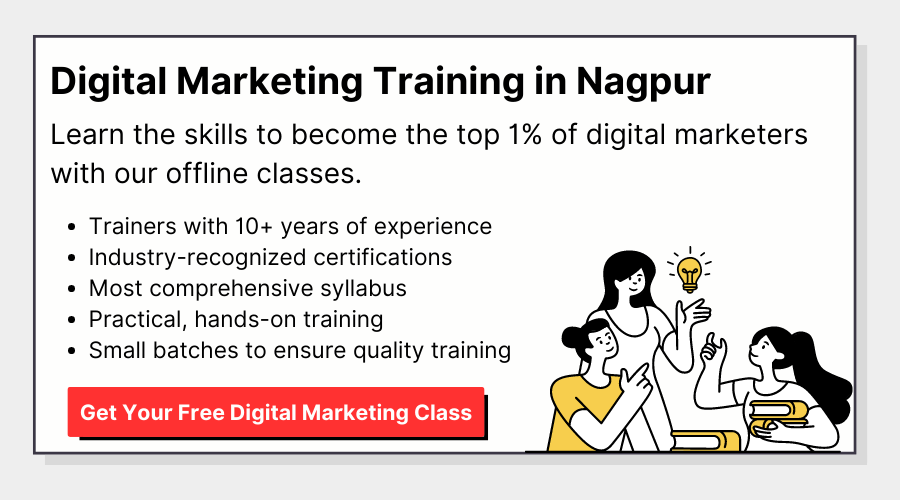 You get the chance to learn from digital marketing experts. You will understand how the industry works and how you should proceed in your career.
All the course materials and resources are updated periodically. So, you will only learn the latest techniques and methodologies that drive results.
It's a cohort-based training program allowing you to become a community member. Networking is one of the most important things to find a job or run a business.
You will receive practical training. So, you will understand how to perform tasks in real time with real clients instead of guessing what to do and how to do it.
Does digital marketing require maths and coding skills?
Digital marketing does not require you to have exceptional maths and coding skills. You must know basic maths to understand the data. You do not require any coding skills at all.
However, learning them might help you with a few things, such as task automation. But they are not necessary to master digital marketing.
What are the free resources to learn digital marketing?
There are multiple resources available online to learn digital marketing for free.
1. Fundamentals of Digital Marketing by Google
This is a free course by Google to learn the basics of digital marketing. You can check the complete curriculum here – Fundamentals of Digital Marketing.
2. Content Marketing Certification Course by HubSpot
This is a free course by HubSpot that teaches how to become an effective content marketer. You can check the course here – Content Marketing Certification Course.
3. learningseo.io by Aleyda Solis
It is a great free resource with links to multiple blogs and guides to learn basic, intermediate, and advanced SEO techniques. You can check all the free resources here – learningseo.io.
4. Advanced Pay Per Click (PPC) Program by Simplilearn
This course teaches all about PPC concepts, lead generation, conversion rate optimization, digital advertising, performance measurement, and search engine marketing. You can check the course here – Advanced Pay Per Click (PPC) Program.
Can you work remotely as a digital marketer?
Yes, you can easily work remotely as a digital marketing professional. In fact, most digital marketing agencies have already adopted the WFH model.
As you can see in the examples below, there are lots of fully remote digital marketing jobs available in India today.
What do Digital Marketers exactly do?
A digital marketer is responsible for a business's online growth. They leverage various social media platforms and search engines to create brand awareness and generate revenue.
Here's what a digital marketer's routine looks like:
Creates a digital marketing strategy that various channels, such as social media platforms, emails, and search engines
Launches digital marketing campaigns based on that strategy
Track campaigns and analyse metrics to ensure the client gets a positive ROI
Write and edit content for blog posts, landing pages, social media, and email campaigns
Research competitors and analyse their strategies to find new data and opportunities
Run ad campaigns, analyse them, and further improve them for a high return on ad spend (ROAS)
Learn about the latest trends and updates in the digital marketing field
As a digital marketer, your job is to ensure that people learn about your clients, develop trust, and become paid customers eventually.
How do I change my career from IT to digital marketing?
Transitioning from one career to another is not usually a smooth experience. If you want to change your career from IT to digital marketing, follow these steps:
As an IT guy, you must be familiar with some of the technical tools used by digital marketers. Focus on the knowledge you already have. Find gaps and take courses to fill them
You can join GrowthAcad's digital marketing training program to have a proper assessment from professionals. They will find the gaps in your knowledge and will help you become a marketer with the right approach and arsenal of tools
Learn content writing and copywriting. As a marketer, it always helps to become good at online writing. You don't have to be a full-fledged writer. You must learn enough to understand how online writing works to manage multiple writers
Next, start experimenting by writing on social media platforms and building a blog. Then, implement various digital marketing techniques, such as SEO and PPC, to get traffic and build a following
Use the results you generated for your site and social media profiles to get your first client. Make sure to get a testimonial once the work is done
Keep finding new clients, collecting testimonials, and keep experimenting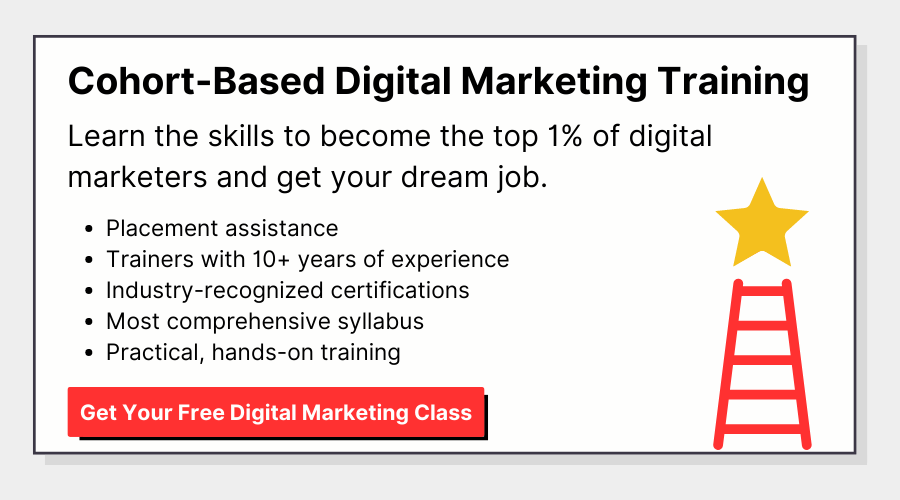 That's all for this guide. If you have any questions unanswered in this guide, please contact our marketing experts and solve your query.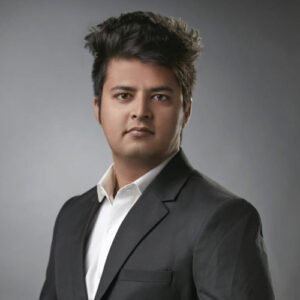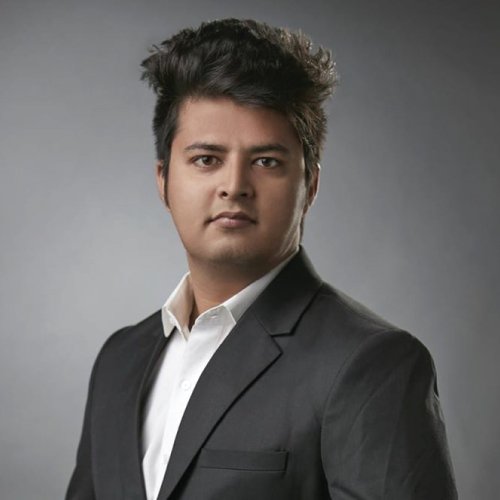 Article by
Harshit Gupta
Harshit Gupta is a digital marketing specialist and growth marketer with over 9 years of experience in the industry. He is the founder of NSDM INDIA (currently known as GrowthAcad), where he trained thousands of students over 5 years.
Harshit started his digital marketing journey with a startup called Hash & Karma, a performance-based digital marketing agency, where he scaled the company from zero to 50 clients in just two years. Connect him over LinkedIn & Twitter.