Date of the Event: December 13, 2022
IIM Rohtak– The Entrepreneurship Cell (E-Cell) of IIM Rohtak has successfully hosted a transformative bootcamp on Digital & Growth Marketing, led by renowned industry expert, Mr. Govind Chandak. The event, which took place in a live online format, aimed to equip participants with actionable insights into the dynamic realms of digital marketing and growth strategies.
The bootcamp, hosted in collaboration with GrowthAcad, witnessed enthusiastic participation from budding marketers, entrepreneurs, and students keen on expanding their understanding of the digital landscape. Mr. Govind Chandak, a distinguished figure in the digital marketing arena, guided the attendees through an intensive and outcome-focused workshop.
Highlights of the Bootcamp:
The bootcamp covered a comprehensive range of topics, including but not limited to:
Fundamentals of digital marketing and growth strategies
Emerging trends shaping the digital marketing landscape
Online revenue models and effective digital marketing strategies
Distinctive aspects of growth marketing and its differentiation from traditional digital marketing
Exploration of the AAARRR Framework (Pirate Funnel) and traction channels for business growth
In-depth insights into growth marketing experiments, centered around the North Star Metric
The concept of a T-shaped marketer and the critical roles within a growth team
Lucid understanding of career opportunities and pay scales in the field of digital marketing
The bootcamp was designed for practicality, with an emphasis on real-world case studies and case study-oriented learning architecture. Attendees also gained access to valuable takeaways, including two assignments, a resume template, and membership in a community of top digital marketers from around the globe. This membership comes with lifetime access to GrowthAcad's resources, ensuring constant support for doubt-solving and learning.
Read the official LinkedIn announcement: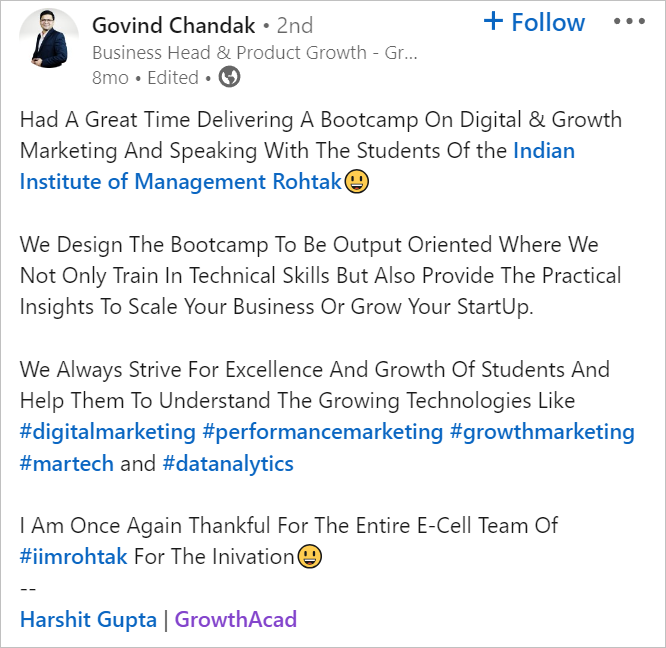 For media inquiries, please contact:
Phone: +91 7276527456
Email: info@growthacad.com
Nagpur branch address: Cube Space 1st Floor, 379, Pt Nehru Marg, Opposite Zero Mile Metro Station, Near Morris College T-Point, Sitabuldi, Nagpur, Maharashtra, 440012, India