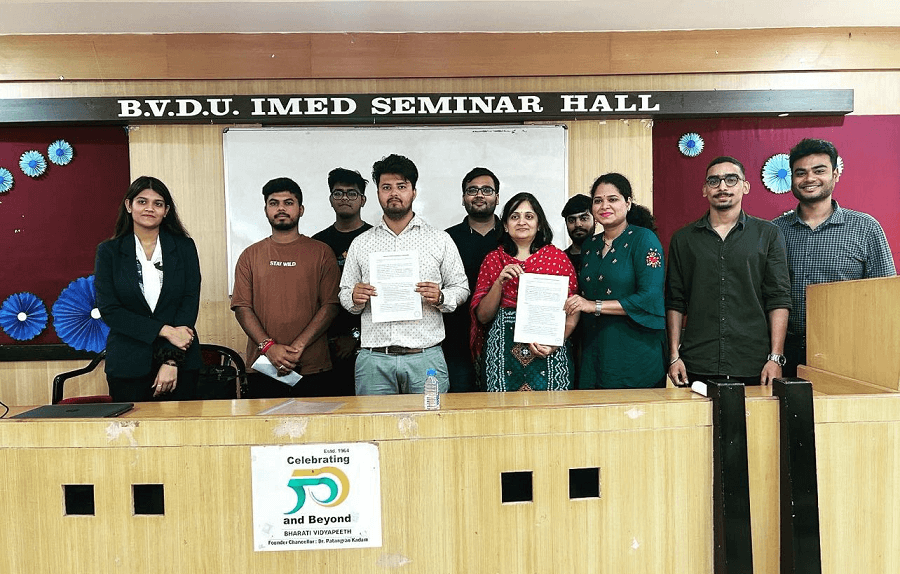 Date of the Event: September 2, 2023
Introduction
GrowthAcad, a leading digital marketing training institute, has signed a Memorandum of Understanding (MOU) for a Digital Marketing Knowledge Partnership with Bharati Vidyapeeth University. The MOU, signed on September 2, 2023, marks a significant collaboration aimed at upskilling Bharati Vidyapeeth Management students with cutting-edge digital marketing skills.
More Info about the Event
Under the terms of this partnership, GrowthAcad will provide Bharati Vidyapeeth University students with access to a wide range of digital marketing resources, including boot camps, digital marketing certification programs, and industry projects. This collaboration aligns with GrowthAcad's mission to bridge the digital skills gap and empower the next generation of marketing professionals with practical knowledge and expertise.
Key Highlights of the Digital Marketing Knowledge Partnership:
1. Skill Enhancement: GrowthAcad will offer Bharati Vidyapeeth University students the opportunity to enhance their digital marketing skills through comprehensive training programs. This includes hands-on boot camps that provide practical experience and industry-specific insights.
2. Certification Programs: Students will have access to GrowthAcad's digital marketing certification programs, ensuring that they receive industry-recognized credentials upon completion. These certifications are valuable assets for students as they embark on their careers in marketing.
3. Real-World Projects: The partnership will facilitate industry projects that allow students to apply their digital marketing knowledge in real-world scenarios. This hands-on experience is invaluable in preparing students for the demands of the digital marketing landscape.
[Role of GrowthAcad in this Contribution]
This MOU represents a significant step forward in the educational landscape, demonstrating a commitment to preparing students for success in the digital age. By combining the academic rigor of Bharati Vidyapeeth University with GrowthAcad's expertise in digital marketing, this partnership aims to produce marketing professionals who are well-equipped to thrive in a digital-first world.
Read the official LinkedIn announcement:
For media inquiries, please contact:
Phone: +91 9022071935, 7276527456
Email: info@growthacad.com
Nagpur branch address: Cube Space 1st Floor, 379, Pt Nehru Marg, Opposite Zero Mile Metro Station, Near Morris College T-Point, Sitabuldi, Nagpur, Maharashtra, 440012, India