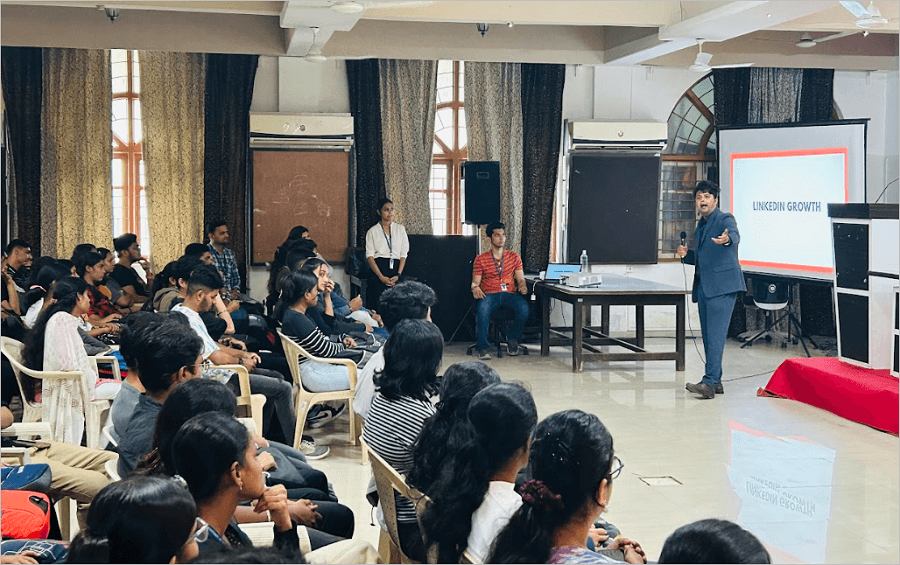 Date of the Event: September 15, 2023
GrowthAcad, a distinguished digital marketing training institute, marked a significant milestone by delivering an impactful LinkedIn Marketing Workshop for BBA students at Ness Wadia College of Commerce. The event, held on September 15, 2023, underscores GrowthAcad's commitment to empowering the next generation of professionals with valuable insights and skills for LinkedIn marketing success.
More Info about the Event
Over 250 enthusiastic BBA students at Ness Wadia College of Commerce had the privilege of participating in an engaging and informative LinkedIn Marketing Workshop, expertly led by GrowthAcad's Founder and LinkedIn Marketing Coach, Harshit Gupta. The workshop focused on enabling students to develop and nurture compelling personal brands on LinkedIn, a platform essential for professional networking and career advancement.
Key Highlights of the LinkedIn Marketing Workshop:
GrowthAcad's Founder, Harshit Gupta, shared a wealth of knowledge and actionable strategies, equipping students with the tools needed to establish and maintain impactful personal brands on LinkedIn.
The workshop featured the unveiling of Harshit Gupta's proprietary 8-step LinkedIn growth playbook, a strategic guide designed to assist students in scaling their LinkedIn profiles from zero to 10,000 followers. This playbook empowers students to harness the full potential of LinkedIn as a platform for professional growth.
[Role of GrowthAcad in this Contribution]
GrowthAcad played a pivotal role in the success of this LinkedIn Marketing Workshop, contributing its expertise and industry-specific knowledge. The institute's commitment to empowering students with practical skills that are highly relevant in today's digital business landscape was evident throughout the event.
Read the official LinkedIn announcement:
For media inquiries, please contact:
Phone: +91 9022071935, 7276527456
Email: growthacadngp@growthacad.com, info@growthacad.com
Nagpur branch address: Cube Space 1st Floor, 379, Pt Nehru Marg, Opposite Zero Mile Metro Station, Near Morris College T-Point, Sitabuldi, Nagpur, Maharashtra, 440012, India