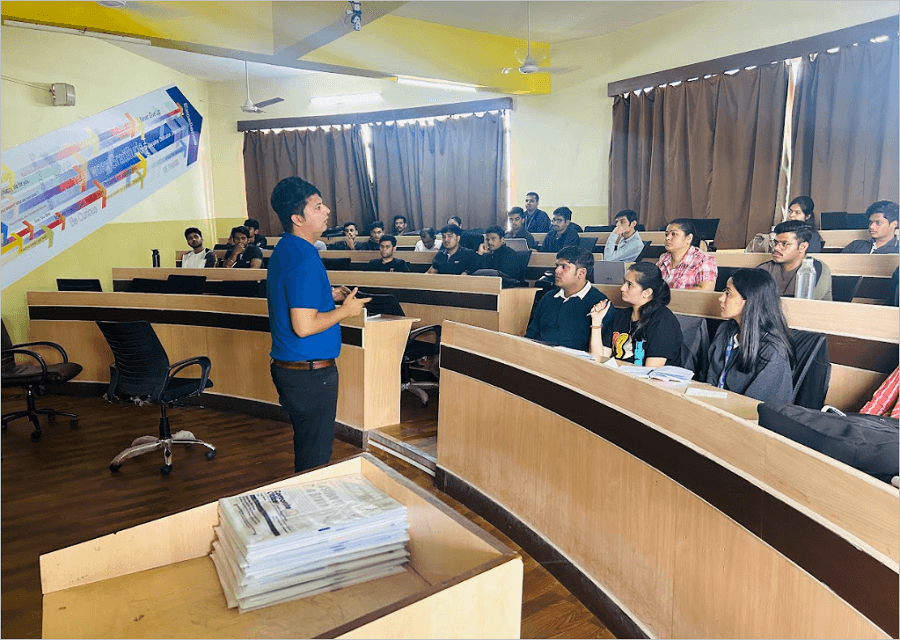 Date of the Event: September 9, 2023
GrowthAcad, a renowned digital marketing training institute, is delighted to announce the successful delivery of a high-impact LinkedIn Marketing Workshop for MBA Marketing students at Sri Balaji University. The event, which took place on September 9, 2023, underscores GrowthAcad's commitment to providing students with actionable knowledge and skills to excel in the dynamic field of LinkedIn marketing.
Key Highlights of the LinkedIn Marketing Workshop:
1. Personal Brand Building: Harshit Gupta shared invaluable insights and strategies on how students can effectively build and nurture their personal brands on LinkedIn, a platform crucial for professional networking and career growth.
2. 8-Step LinkedIn Growth Playbook: Harshit Gupta unveiled his proprietary 8-step LinkedIn growth playbook, providing students with a systematic approach to scale their LinkedIn profiles from zero to 10,000 followers. The playbook is designed to help students leverage LinkedIn's potential to its fullest.
3. Hands-On Learning: The workshop adopted a hands-on approach, allowing students to apply the strategies discussed in real time. Participants engaged in practical exercises and received personalized guidance from Harshit Gupta.
GrowthAcad played a pivotal role in delivering this LinkedIn Marketing Workshop at Sri Balaji University. By sharing practical knowledge and industry-specific insights, GrowthAcad empowers students to navigate the LinkedIn landscape confidently and strategically.
Link to the official announcement post on LinkedIn
This event exemplifies GrowthAcad's dedication to equipping students with practical skills that are highly relevant to today's digital business environment. In an era where LinkedIn has become a vital platform for professional networking and career advancement, GrowthAcad's workshop provided students with a competitive advantage.
For media inquiries, please contact:
Phone: +91 9022071935, 7276527456
Email: growthacadngp@growthacad.com, info@growthacad.com
Nagpur branch address: Cube Space 1st Floor, 379, Pt Nehru Marg, Opposite Zero Mile Metro Station, Near Morris College T-Point, Sitabuldi, Nagpur, Maharashtra, 440012, India