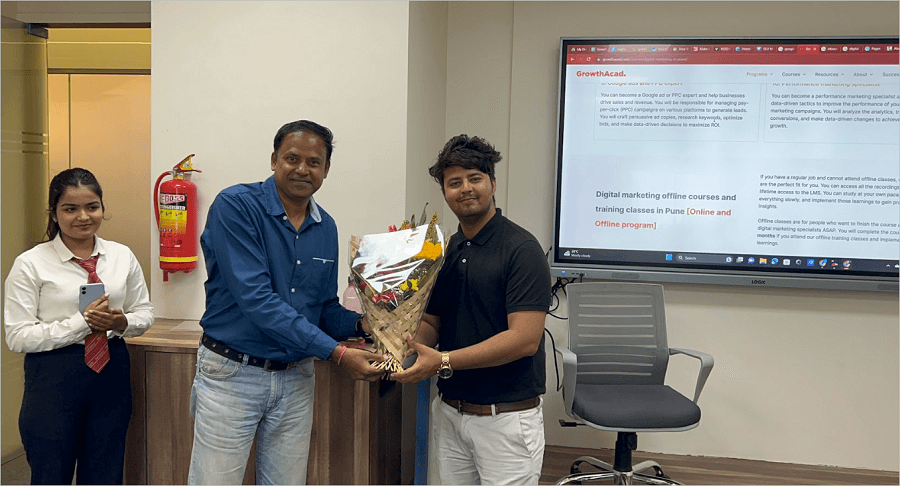 Date of the Event: September 20, 2023
Location: Pune, India
GrowthAcad, a renowned digital marketing training institute, is pleased to announce the successful delivery of a high-impact digital marketing training program for MBA Marketing students at Rajendra Institute of Information Technology and Sciences, Pune. This event, which took place on September 20, 2023, underscores GrowthAcad's commitment to providing students with practical digital marketing skills essential for success in the modern business landscape.
Key Highlights of the Digital Marketing Training Program:
Comprehensive Skill Development: GrowthAcad's training program covered a wide spectrum of digital marketing skills, ensuring that students received a holistic understanding of the field. Topics ranged from optimizing websites for search engines (SEO) to crafting effective social media marketing campaigns.
Practical Application: The program adopted a hands-on approach, enabling students to apply what they learned in real-world scenarios. Through practical exercises and case studies, participants gained valuable experience in executing digital marketing strategies.
Industry-Relevant Insights: GrowthAcad's trainers shared industry-specific insights and best practices, ensuring that students were well-prepared to tackle the challenges of the dynamic digital marketing landscape.
[Role of GrowthAcad in this Contribution]
GrowthAcad played a central role in delivering this digital marketing training program to MBA Marketing students at RIIM Pune. With its commitment to excellence in digital marketing education, GrowthAcad provided students with the knowledge and practical skills necessary to excel in their future marketing careers.
This event exemplifies GrowthAcad's dedication to bridging the digital skills gap and empowering the next generation of marketing professionals with the expertise required to thrive in the digital age.
For media inquiries, please contact:
Phone: +91 9022071935, 7276527456
Email: growthacadngp@growthacad.com, info@growthacad.com
Nagpur branch address: Cube Space 1st Floor, 379, Pt Nehru Marg, Opposite Zero Mile Metro Station, Near Morris College T-Point, Sitabuldi, Nagpur, Maharashtra, 440012, India