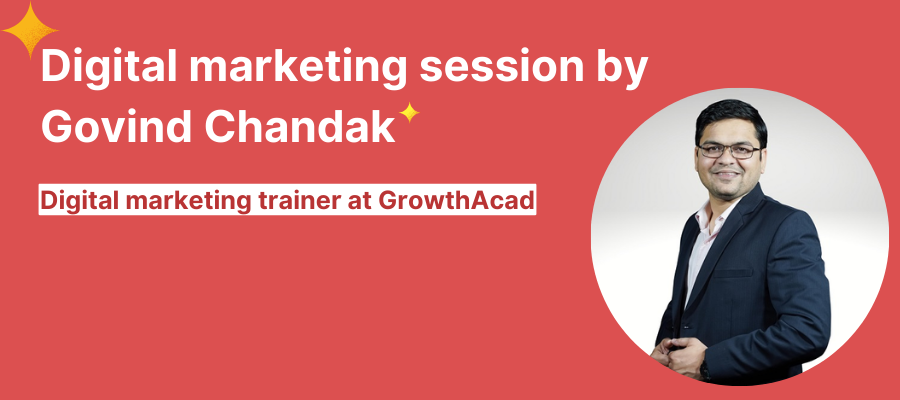 Date: October 5, 2023
Location: Offline
The MBA Department of G.H. Raisoni College of Engineering and Business Management, Jalgaon, is pleased to announce a landmark event, the Student Development Program & MoU Signing for Digital Marketing & Data Analytics with GrowthACad. This event, held on October 5, 2023, marked a significant step towards empowering the students of G.H. Raisoni College with essential knowledge and skills in the fields of digital marketing and data analytics.
Miss Nikita Gour, renowned for her expertise in the field, delivered an enlightening student development program focusing on Digital Marketing and Data Analytics. The event featured two informative sessions, as follows:
Session I: Getting First Steps in Digital Marketing (1-Hour Delivery)
What Is Digital Marketing?
Emerging Trends in Digital Marketing
Online Revenue Models
Digital Marketing Strategies
Career Opportunities in Digital Marketing
Pay Scale in Digital Marketing
Session II: Data Analytics (1-Hour Delivery)
What Is Data Analytics?
How Does Data Analytics Help Solve Real-world Business Problems?
Case Study on How Data Analytics Is Used in Sales & Marketing
Skills Required to Become a Data Analyst
Career Opportunities in Data Analytics
Furthermore, GrowthAcad is delighted to announce the signing of a Memorandum of Understanding (MoU) with G.H. Raisoni College of Engineering and Business Management, solidifying their commitment to further upskilling the institution in the areas of data and marketing technologies. This strategic partnership will pave the way for ongoing collaboration, knowledge exchange, and continued professional development.
Special thanks go to the esteemed individuals who made this event possible:
Dr. Preeti Agarwal (Principal, G.H. Raisoni College)
Dr. Kaustav Mukherjee (HOD – MBA, G.H. Raisoni College)
Dr. Rohit Salunke (Professor, G.H. Raisoni College)
For media inquiries, please contact:
Phone: +91 9022071935, 7276527456
Email: info@growthacad.com
Nagpur branch address: Cube Space 1st Floor, 379, Pt Nehru Marg, Opposite Zero Mile Metro Station, Near Morris College T-Point, Sitabuldi, Nagpur, Maharashtra, 440012, India