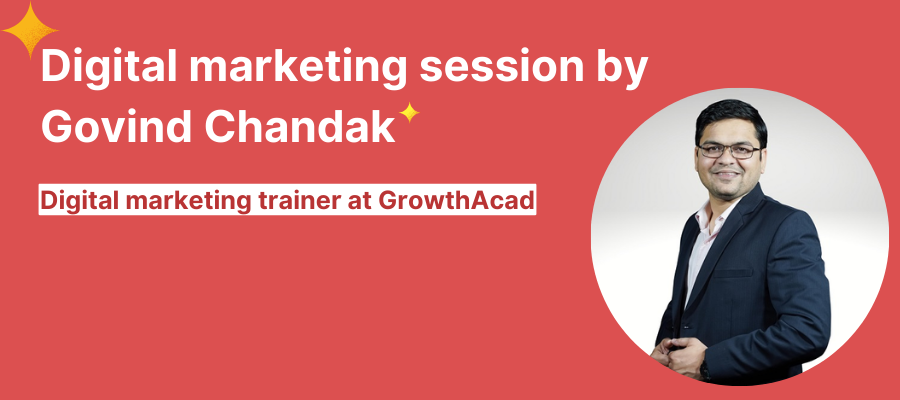 Date: July 23, 2022
Location: Live Online
The E-Cell Team at the Indian Institute of Management Kashipur (IIM Kashipur) has successfully hosted an enriching online workshop featuring Mr. Govind Chandak, a renowned digital marketing expert. The event proved to be an enlightening journey into the world of digital and growth marketing.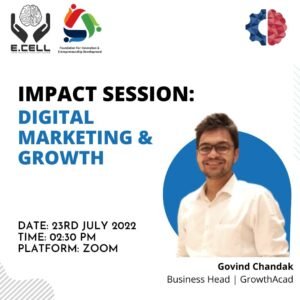 Mr. Govind Chandak, a leading authority in digital marketing, captivated the audience with an insightful workshop that explored a comprehensive range of topics, including:
What Is Digital Marketing?
Emerging Trends in Digital Marketing
Online Revenue Models
Digital Marketing Strategies
What Is Growth Marketing?
How Growth Marketing Differs From Digital Marketing
Pirate Funnel (AAARRR Framework / Sales Funnel)
Traction Channels for Businesses
The Process of Growth Marketing Experiments (North Star Metric)
The Concept of a T-Shape Marketer
Members of the Growth Team
Career Opportunities in Digital Marketing
Pay Scale in Digital Marketing
Participants had the privilege of immersing themselves in over 10 case studies, fostering a case study-oriented learning approach. The workshop provided attendees with two valuable takeaway assignments, a resume template, and exclusive community access to esteemed digital marketers from across the globe. Furthermore, GrowthAcad extended its support with a lifetime membership, ensuring doubt-solving and support are just a click away.
The event also featured an interactive open mic session, allowing participants to engage with Mr. Govind Chandak directly. This provided a platform for attendees to ask questions, seek advice on marketing strategies, and discuss queries related to startup growth.
The E-Cell Team at IIM Kashipur expressed their gratitude for the opportunity to host this illuminating event. They emphasized the importance of staying connected with industry experts and enhancing the entrepreneurial mindset among students.
For media inquiries, please contact:
Phone: +91 9022071935, 7276527456
Email: info@growthacad.com
Nagpur branch address: Cube Space 1st Floor, 379, Pt Nehru Marg, Opposite Zero Mile Metro Station, Near Morris College T-Point, Sitabuldi, Nagpur, Maharashtra, 440012, India