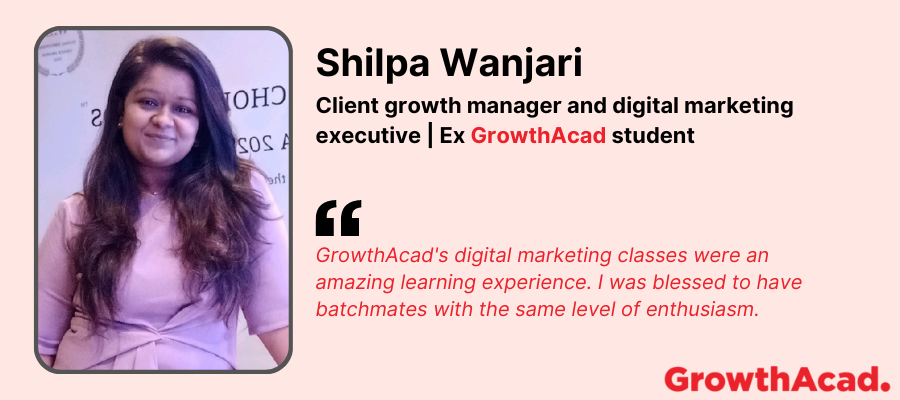 What were you doing before entering the digital marketing field?
I was working with an educational institute as an assistant professor.
What influenced your decision to study digital marketing?
I was handling the social media of the institute. An eagerness struck in me to learn about these social media platforms in more detail. Hence I decided to learn the digital marketing course
What motivated you to enroll in the digital marketing training program at GrowthAcad?
Harshit sir has thorough industry knowledge and valid contacts with industry experts.
What were your expectations when you enrolled in our institute's digital marketing training program?
GrowthAcad fulfilled my expectations. The institute dived me into the world of digital marketing and made me understand the basics of the internet world and how digital marketing is now playing a major role in brand marketing.
What was your favourite aspect of the training program?
The live projects were really helpful. Harshit sir made us understand various tools used in the process. Timely we were provided with reading materials, authentic websites, authors, etc.
Since completing the training in the GrowthAcad, how has your Career progressed?
Initially, I worked as a freelancer during the course. Later I joined W.E.-Matter as a Client Growth Manager.
What are some of the specific skills that you learned during the training that you have been able to apply in your job or business?
Tools like Canva and various tools for copywriting really helped me with social media branding.
How would you describe your time at the GrowthAcad Institute?
It was an amazing learning experience. I was blessed to have batchmates with the same level of enthusiasm.
Is there any advice you would give to new students at the GrowthAcad?
Along with the theory, grab internship opportunities as much as possible. In the initial working days, be ready to grab the skills and keep upgrading yourself.