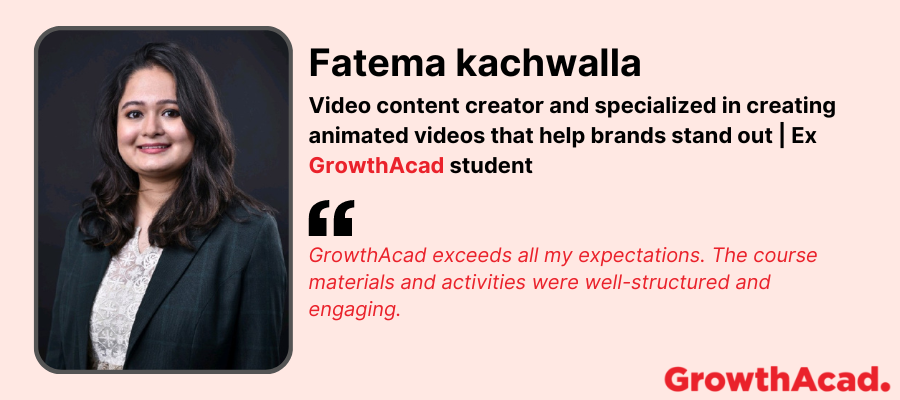 What were you doing before entering the digital marketing field?
I was running my Animation and Graphic Design studio called The Blue Puppet.
What influenced your decision to study digital marketing?
Since I am in the field of creating Promotional videos, I wanted to learn the online marketing process. To give insights to my clients on how my videos can help them increase their business or brand awareness.
What motivated you to enroll in the digital marketing training program at GrowthAcad?
Harshit sir was very helpful in guiding and explaining the entire process.
What were your expectations when you enrolled in our institute's digital marketing training program?
It was a really good experience. GrowthAcad exceeds all my expectations. The course materials and activities were well-structured and engaging. Overall, I had a great learning experience with GrowthAcad.
What was your favourite aspect of the training program?
Personal attention is given by Harshit sir. And the study materials given to us were very useful for me while working on live projects.
Since completing the training in the GrowthAcad, how has your Career progressed? – Discuss whether you got any freelance clients, jobs, or internships.
I have expanded my company's (The Blue Puppet) services to digital marketing.
What are some of the specific skills that you learned during the training that you have been able to apply in your job or business?
Using social media for lead generation for my own business. Specially Outreach, using LinkedIn, has helped me scale my business. While practicing the same, I got many clients through LinkedIn, and one of my major clients is Adani Electricity.
How would you describe your time at the GrowthAcad Institute?
Overall it was a fun learning experience for me.
Is there any advice you would give to new students at the GrowthAcad?
Keep practicing and stay updated with the latest digital marketing trends and strategies.
Join GrowthAcad's offline training program: