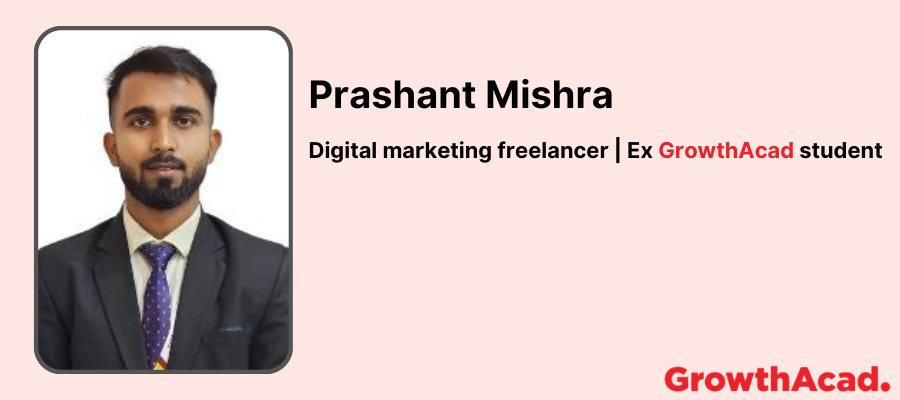 What were you doing before entering the digital marketing field?
Before entering the field of digital marketing, I pursued a Bachelor of Commerce degree.
What influenced your decision to study digital marketing?
I was drawn to the vast potential of digital marketing and the promising career prospects it offers.
What motivated you to enroll in the digital marketing training program at GrowthAcad?
I was particularly motivated to enroll in the digital marketing training program at GrowthAcad due to the institute's experienced faculty and their practical approach to teaching.
What were your expectations when you enrolled in our institute's digital marketing training program?
I expected to learn practical aspects of digital marketing, and I can confidently say that the program exceeded my expectations.
What was your favourite aspect of the training program?
I particularly enjoyed the practical learning aspect of the program, which allowed me to apply my skills in real-world scenarios.
Any books or resources that you'd like to recommend to newbie digital marketers?
I would recommend "Digital Marketing for Dummies" by Ryan Deiss and Russ Henneberry, "Duct Tape Marketing" by John Jantsch, "Digital Marketing: Strategy, Implementation & Practice" by Dave Chaffey and Fiona Ellis, and "Permission Marketing" by Seth Godin.
Since completing the training in the GrowthAcad, how has your career progressed?
Yes, I have been able to secure several freelance clients and internship opportunities since completing the training program at GrowthAcad.
What are some of the specific skills that you learned during the training that you have been able to apply in your job or business?
I have been able to apply a range of skills in my career, including time management, running ads on social media, and social media marketing.
How would you describe your time at the GrowthAcad Institute?
My time at GrowthAcad was a valuable learning experience that allowed me to grow both personally and professionally.
Is there any advice you would give to new students at GrowthAcad?
I would advise new students to fully engage with the program and take advantage of the practical learning opportunities. GrowthAcad is a one-stop solution for those looking to take their digital marketing skills to new heights.
Looking to join the next batch of digital marketing courses offline? Enroll in GrowthAcad's: