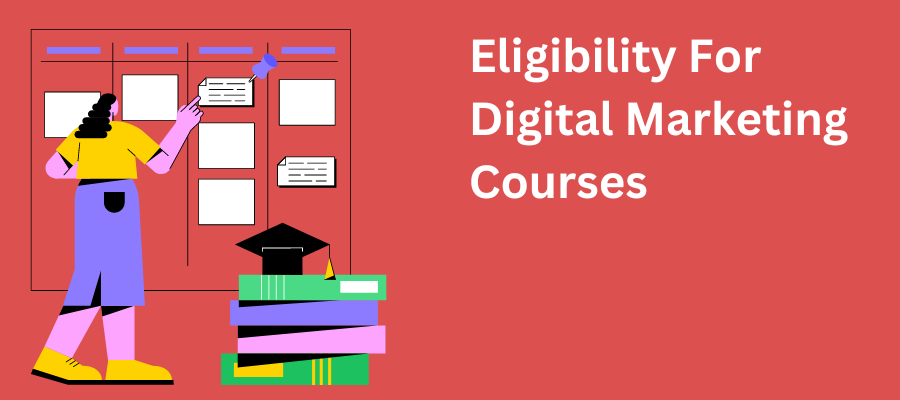 Looking to understand the digital marketing course eligibility so you can start your career and get a high-paying job in 2023?
If so, you will find this detailed guide helpful.
To make this even more useful, we have curated and answered the 27 most common questions regarding eligibility, course details, course fees, and more.
Let's get started.
1. What is the digital marketing course eligibility?
Similar to any other course, the eligibility for a digital marketing course depends on colleges and institutions.
However, there are a few base prerequisites that students need to meet to undertake this course:
1/ Education
One of the prime pull factors for a digital marketing course is that it allows people from all types of educational backgrounds to enroll. In most cases, students need to have completed 12th grade to be able to take these courses. That said, in some advanced or intermediate courses, you might be required to obtain graduation first or have some work experience.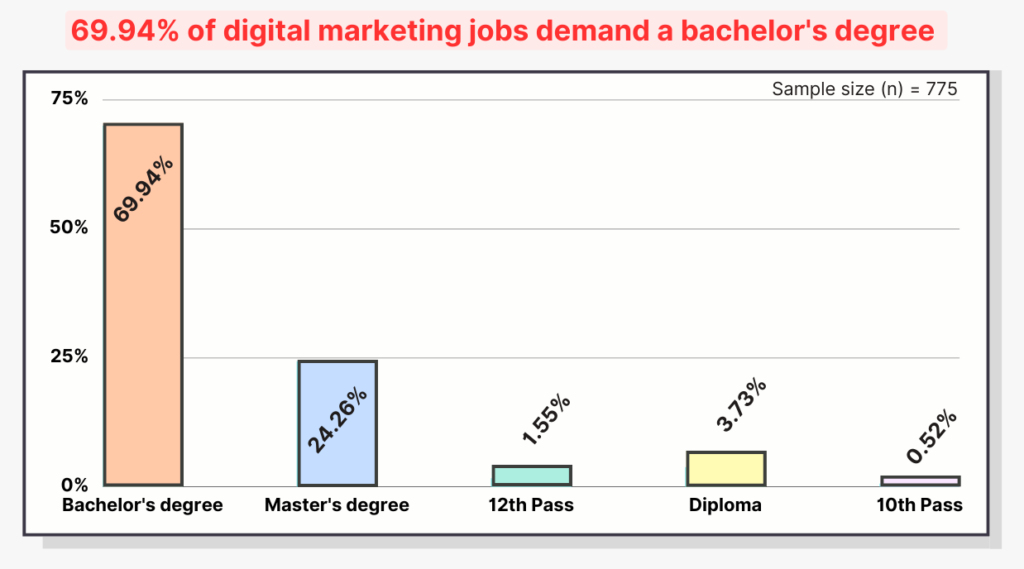 2/ Skills
Having certain skills can help people who want to take digital marketing training, but they are not required. Some of these skills are:
Communication skills: It's important to have good written and spoken communication skills to get marketing ideas across different digital platforms.
Analytical skills: In digital marketing, it's helpful to be able to look at data and figure out what it means in order to improve efforts and make choices based on the data.
Creativity: Thinking creatively can help you come up with new marketing tactics and interesting material.
Basic computer skills: Most people expect you to know how to use basic computer programs like word writing, spreadsheets, and slideshow software.
3/ Basic Requirements
To get the most out of a digital marketing course, you need to meet a few basic conditions. These things are:
Internet connection: You need a stable internet connection to use online learning tools, participate in online lessons, and research online.
Laptop or PC: You need a laptop or desktop computer to do your homework, work on projects, and learn digital marketing methods.
Software and tools: Some classes may need special software or tools for things like web tracking, making content, or managing social media. Make sure your device has at least the basic needs.
Others: In addition to the above, there may be other things to think about based on the training provider. These could be things like being able to speak a certain language (especially for classes taught in that language), being a certain age (in some cases), or anything else that the school specifies as a requirement.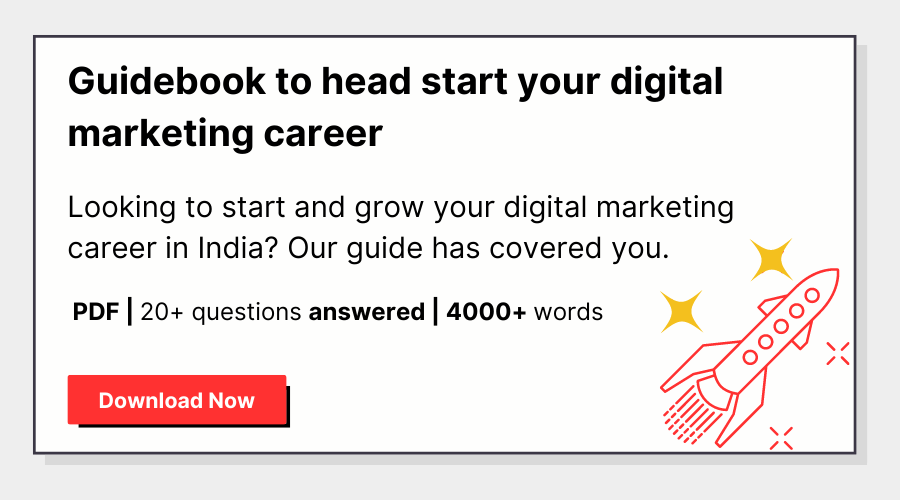 2. Can a 12th pass learn digital marketing?
Yes, most digital courses accept students who have passed the 12th grade. However, it's important to note that for advanced-level courses, you might need to complete graduation before enrolling.
3. Which subjects are required for digital marketing?
While students from all streams are welcome to join a digital marketing course, it does help to have a background in the following subjects:
1/ Marketing Concepts
Understanding fundamental marketing concepts is essential for digital marketers. This includes segmentation, targeting, positioning, the marketing mix (product, price, place, promotion), branding, and customer relationship management (CRM). A solid grasp of these concepts will help you develop effective digital marketing strategies and campaigns.
2/ Basic Digital Marketing Terminology
Digital marketing has its own terminology and acronyms that you should be familiar with. This includes terms like
PPC (Pay-Per-Click)
CTR (Click-Through Rate)
CRO (Conversion Rate Optimization)
ROI (Return on Investment)
Understanding these terms will enable you to communicate and collaborate with other digital marketing professionals effectively.
3/ Web Analytics
Web analytics collects, analyzes, and interprets data from websites and digital marketing campaigns. Familiarity with web analytics tools such as Google Analytics helps you track website traffic, understand user behavior, measure the effectiveness of marketing efforts, and make data-driven decisions.
It involves interpreting metrics like website visits, bounce rate, average session duration, conversion rates, and traffic sources.
Learn how a complete fresher in digital marketing can get paid internship opportunities.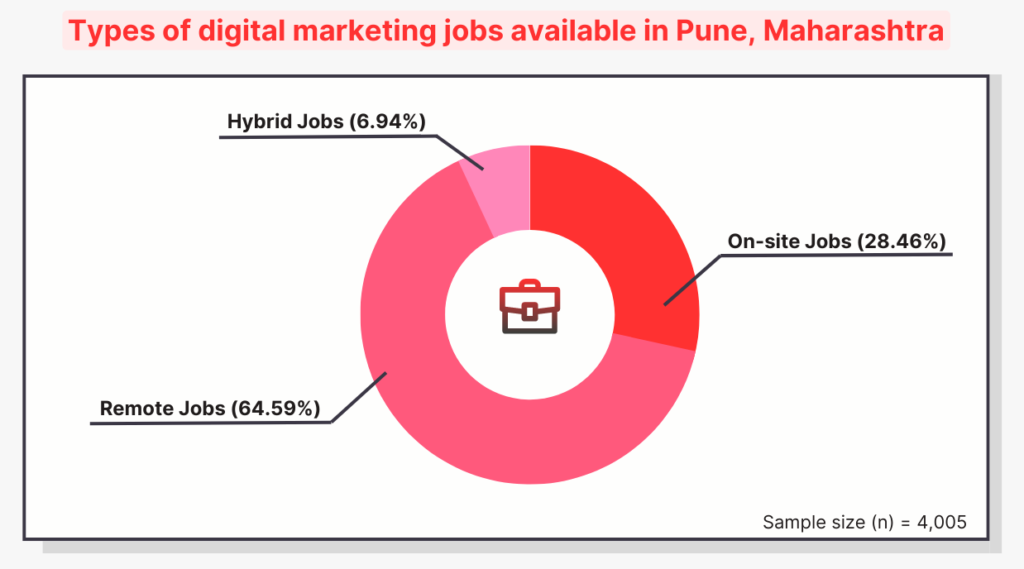 4. Can arts students do digital marketing?
Yes, students who have completed their Bachelor of Arts (B.A.) degree can enroll in a digital marketing course. This is because a good digital marketer needs to be creative and understand people and society. Your bachelor's degree can help you excel in these areas of digital marketing.
5. Can a 10th pass do digital marketing?
Yes, a student who has completed 10th grade can enroll in basic digital marketing courses some institutes offer. However, you might need to complete your 12th grade or graduation to apply for more advanced courses.
6. Is digital marketing tough?
Depending on one's level of expertise and openness to new information, digital marketing may be both a challenge and a rewarding opportunity. You'll need to acquire the appropriate background knowledge and experience to reach the top of your game.
Digital marketing can be challenging since it is always developing along with new technology, platforms, and approaches. Keeping up with changing fashions and algorithmic requirements may be taxing. In addition, there is a lot of competition in the online world, so marketers need to constantly improve their strategies to stand out and connect with their audience.
Digital marketing opens up several communication channels between businesses and their target audiences, increasing brand recognition and sales. Marketers may improve the efficacy of their efforts by monitoring and adjusting them in real-time.
Content development, social media marketing, search engine optimization, and paid advertising are just a few creative and imaginative channels available in digital marketing where individuals may demonstrate their abilities and make an actual difference.
7. Is maths compulsory for digital marketing?
Put simply, your academic qualification in mathematics is not compulsory to become a digital marketing expert in 2023 and beyond. Having a solid grasp of fundamental mathematics is not required for success in digital marketing, but it may certainly help. Effective digital marketing strategy development, data analysis, and return on investment (ROI) measurement all benefit from a solid grasp of mathematics.
To make informed choices in digital marketing, it is essential to comprehend and evaluate data. Marketers may assess the effectiveness of their efforts by analyzing measures like conversion rates, click-through rates, and client acquisition expenses, all of which need a basic understanding of mathematics.
8. Is digital marketing only for commerce students?
No, students from any stream can enroll in a digital marketing course. Students with a commerce background can use their skills for analytical thinking, which is crucial for a good digital marketer.
9. How do I join digital marketing?
There are multiple free courses online that you can take to become a digital marketer. One of the most effective free online courses is Google's 'Fundament of Digital Marketing.' However, if you want to get in-depth knowledge to become a digital marketing excerpt, you should consider enrolling in a professional digital marketing course.
To learn digital marketing, enroll in GrowthAcad's updated digital marketing courses. With our courses, you can gain valuable skills in SEO, SEM, social media marketing, content creation, and more.
Led by industry experts, our courses offer practical training, case studies, and hands-on projects to prepare you for a rewarding career in digital marketing.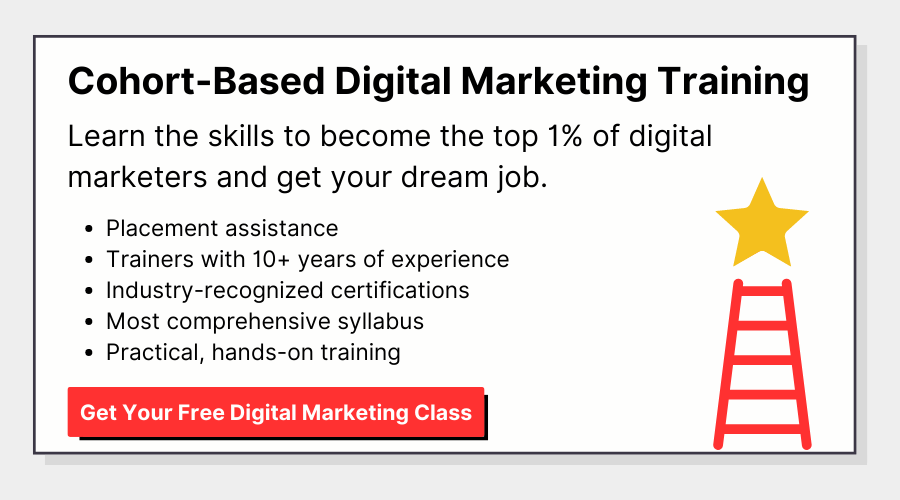 10. Which stream is best for digital marketing?
Students across all streams can enroll in a digital marketing course, including students with a background in commerce. These students have keen analytical thinking skills, which is crucial for a digital marketer.
Moreover, they have a sense of budgeting, which is needed for advertising, and they tend to be creative.
11. Can I do digital marketing without MBA?
Yes, you can enroll in a digital marketing course without pursuing an MBA degree. However, completing your MBA can give you a unique edge when it comes to understanding the target audiences, ROI, and staying relevant in the ever-evolving industry.
For instance, an MBA program covers a wide range of business subjects, including marketing. This knowledge can be valuable when developing marketing strategies, understanding consumer behavior, and making data-driven decisions.
Likewise, digital marketing requires a mix of technical skills, creativity, and practical experience. Many of these skills can be acquired through self-study, online courses, certifications, and hands-on experience.
Real-world application and keeping up with industry trends are often more crucial than formal education.
For example, one of the most sought-after and high-paid jobs is a 'social media manager,' wherein you'll be responsible for managing and executing social media strategies, content creation, community engagement, and analyzing social media metrics. You don't require an MBA degree for this job.
12. How many years is the digital marketing course?
A basic course can last up to 3-6 months, while more advanced courses can take 6 months to a year to complete. The time required to complete a digital marketing course depends on multiple factors, including the type of course, pricing, university, complexity, and more.
At GrowthAcad, we offer a comprehensive digital marketing course for 12 weeks. Contact us and get your first digital marketing class for free.
13. What is the cost of digital marketing courses in India?
The average cost of a comprehensive digital marketing course ranges from ₹20,000 to ₹1,00,000. The cost of a digital marketing course in India depends on your chosen course and institute, and other factors like the complexity of the course, brand name in the market, and many more.
At GrowthAcad, we offer the best and most comprehensive digital marketing course at INR 25,000.
Here is what our students are saying about our courses and mentors:
Image
14. Can any graduate do digital marketing?
Yes, a graduate from any stream can enroll in a digital marketing course. In fact, even students who won't have a degree and have completed their 12th grade can apply for a digital marketing course.
15. Is BBA necessary for digital marketing?
No, BBA is not necessary for digital marketing. However, earning a Bachelor of Business Administration (BBA) with a major in Digital Marketing prepares students for successful careers in this growing and profitable industry.
16. Is digital marketing a good career?
Yes, pursuing a career in digital marketing is a great move as a good digital marketer is one of the most sought-after talents by employers. In the year 2022, the Indian digital marketing sector achieved an impressive worth of ₹367 billion.
Remarkably, the Indian digital marketing industry is experiencing a remarkable compound annual growth rate (CAGR) of 32.1%, projecting it to attain a staggering value of Rs. 1971 billion by the year 2028.
17. Is digital marketing good for freshers?
Yes, digital marketing is a good career option for freshers. Numerous entry-level digital marketing roles do not call for much previous expertise, and most companies are happy to provide on-the-job training for qualified candidates.
There are many digital marketing training programs and certifications to assist newcomers to learn the ropes.
There are also multiple job opportunities for freshers, some of which include:
SEO Analyst: In this position, novices are responsible for optimizing websites in order to increase their search engine rankings. This includes keyword research, on-page optimization, link development, and using SEO tools to monitor website traffic and performance.
Content Writer: Newcomers to digital marketing can find work as content writers, creating SEO-friendly and engaging content for websites, blogs, social media platforms, and email campaigns. They must possess strong writing abilities and the ability to adapt to various tones and styles.
Social Media Coordinator: This position requires the management of social media accounts, including creating content, scheduling posts, engaging with followers, and monitoring social media analytics.
Other options are:
Content marketing manager
Digital marketing specialist
PPC specialist
CRO specialist
eCommerce marketing expert, and more.
18. Can I study digital marketing for free?
Yes, it is possible to learn digital marketing for free through various online resources. There is a wealth of information available on websites, blogs, YouTube channels, and online forums that can provide valuable insights into digital marketing strategies and techniques.
Free digital marketing courses:
It's important to note that joining a structured program or course taught by experts can provide a more comprehensive and in-depth understanding of the subject.
These programs often offer practical assignments, mentorship, and industry-recognized certifications, which can give you an edge when seeking job opportunities in the field.
19. What is the salary after the digital marketing course?
We recently conducted in-depth research, according to which the average salary of a digital marketer is ₹592,762.
The average salary of a digital marketer is dependent on multiple factors, including specialization, skill, and of course, the city you're in.
20. Can I learn digital marketing in 3 months?
Yes, at GrowthAcad, we offer a comprehensive digital marketing course that lasts for 12 weeks (almost 3 months) that helps you gain in-depth and practical knowledge in the field.
The average time to become proficient in an advanced subject is still about six months. Ultimately, the time it takes you to become an expert in digital marketing will depend on factors such as your motivation, area of interest, and capacity for learning.
21. How many types of digital marketing courses are there?
There are several different types of digital marketing courses that you can choose from, some of which include:
Search Engine Optimization (SEO): SEO courses teach strategies to improve website visibility in search engine results. They cover topics such as keyword research, on-page optimization, technical SEO, link building, and SEO analytics.
Social Media Marketing: Social media marketing courses focus on leveraging social media platforms to build brand presence, engage with audiences, and drive traffic and conversions. They cover content creation, community management, social media advertising, analytics, and social media strategy development.
Pay-Per-Click Advertising (PPC): PPC courses teach how to create and manage online advertising campaigns, primarily on platforms like Google Ads and social media advertising platforms. They cover keyword research, ad creation, bidding strategies, campaign optimization, and performance tracking.
E-commerce Marketing: E-commerce marketing courses focus on driving sales and conversions for online businesses. They cover topics such as product listing optimization, conversion rate optimization (CRO), cart abandonment strategies, customer retention, and e-commerce analytics.
Influencer Marketing: Influencer marketing courses teach how to collaborate with influencers to promote products or services. They cover influencer research and outreach, campaign planning, contract negotiation, performance tracking, and compliance guidelines.
Digital Marketing Strategy: These courses focus on developing comprehensive digital marketing strategies. They cover market research, target audience identification, goal setting, channel selection, budget allocation, campaign measurement, and optimization.
Earn more about digital marketing glossary terms.
22. Which industry needs digital marketing?

Almost every industry requires digital marketing, In order to raise brand awareness and maintain competitiveness. That said, according to our research on the average digital marketing salary in Pune, the IT sector hires the most digital marketers in Pune.
Moreover, digital marketing tactics such as search engine optimization (SEO), content marketing (CM), and social media optimization (SMO) have led to explosive development in sectors as diverse as media & communication, HR & staffing, education, finance, and even manufacturing.
23. What are the benefits of digital marketing?
Some of the most prominent benefits of digital marketing include:
1. Global Presence
The geographical limitations of traditional marketing make worldwide campaigns difficult, time-consuming, and costly to implement.
2. Local Impact
While digital marketing's worldwide reach is undeniably beneficial, it also boosts local awareness, which is crucial if your firm depends on clients in your immediate vicinity.
3. Less expensive
Digital marketing is a cost-effective option whether you're trying to advertise your brand locally or globally.
4. Simple to Learn
Although there are a lot of moving parts to digital marketing, it's not hard to get started. The magnitude of the campaigns and the complexity of their aims make the situation more difficult.
5. Efficient Targeting
You may still tailor your campaign for maximum success with digital marketing even if you don't have a firm grasp on your ideal customer demographic.
6. Real-Time Interaction
Digital marketing facilitates real-time interaction between businesses and customers. Social media platforms live chat support, and email enables immediate communication, feedback, and customer support. This fosters engagement, builds trust, and enhances the overall customer experience.
7. Brand Building and Awareness
Digital marketing provide opportunities for businesses to build and strengthen their brand presence. Through consistent branding, compelling content, and engaging social media activities, businesses can increase brand awareness, establish thought leadership, and create a positive brand image in the minds of their target audience.
8. Flexibility and Adaptability
Digital marketing allow for flexibility and adaptability in marketing strategies. Campaigns that can be modified, optimized, or scaled quickly based on real-time performance data. This agility enables businesses to respond to market changes, trends, or customer feedback promptly, staying ahead of the competition.
24. What are digital marketing course requirements?
Although some digital marketing programs may accept diploma holders or individuals with professional experience, most need at least a bachelor's degree in any discipline. There may be unique requirements for entry into some digital marketing programs, such as previous studies in marketing, statistics, or technology.
25. Which is the best digital marketing course online in India?
GrowthAcad is one of the top digital courses in India. With offline courses available in Pune and Nagpur and online courses allowing students from around the country to join, our course is extremely comprehensive.
Check out our offline training program:
With placement assistance, hands-on training, and opportunities to work on practical projects, students learning with us are sure to build strong careers in the field.
Here are what our students have to say (4.9 out of 5, rated by 390+ students):
26. What is the digital marketing course syllabus?
Check out GrowthAcad's 12-week-long digital marketing syllabus below:
| | |
| --- | --- |
| Module Number | Subject |
| Module 1 | Introduction To Digital Marketing |
| Module 2 | Website Planning & Analysis |
| Module 3 | Search Engine Optimization |
| Module 4 | Search Engine Marketing |
| Module 5 | Social Media Marketing |
| Module 6 | Web Analytics |
| Module 7 | Google Tag Manager |
| Module 8 | Display Advertising |
| Module 9 | Video Advertising |
| Module 10 | eCommerce Marketing |
| Module 11 | Mobile Marketing |
| Module 12 | App Store Optimization |
| Module 13 | Content Marketing & Blogging |
| Module 14 | Online Reputation Management |
| Module 15 | Affiliate Marketing |
| Module 16 | Email Marketing |
| Module 17 | Influencer Marketing |
| Module 18 | Marketing & Sales Automation |
| Module 19 | Growth Hacking |
27. What is the digital marketing course age limit?
The minimum age for enrolling in a digital marketing degree varies widely amongst educational establishments. Assuming you have the requisite experience and education, there is often no maximum age restriction. In fact, after completing Grade 12, you can start learning digital marketing skills and seek a high-paying job in the industry.
However, owing to regulatory responsibilities or safety concerns, certain institutions may require applicants to be a certain age before enrolling in their programs.
Join Growthacad's digital marketing courses online or offline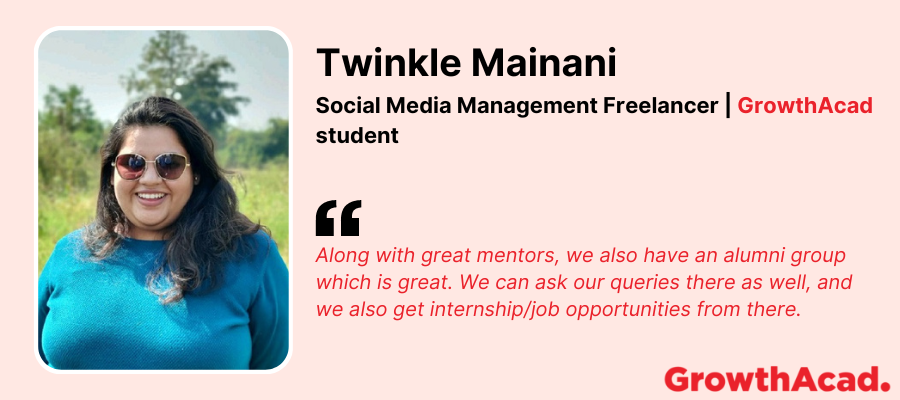 Embark on a transformative digital marketing journey with GrowthAcad's courses, available online or offline! Gain in-depth knowledge and practical skills in SEO, SEM, social media marketing, content creation, and more.
Our USPs include industry-expert trainers, hands-on projects, real-world case studies, and flexible learning options. Don't just take our word for it; explore inspiring success stories from our students. Join us today and unlock your digital marketing potential!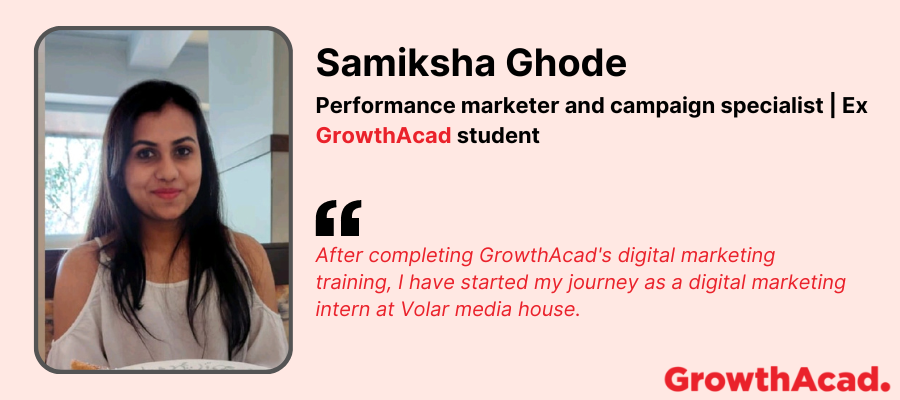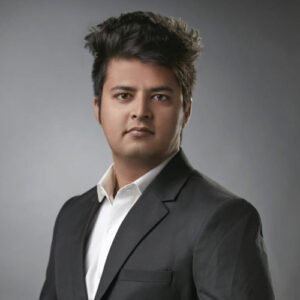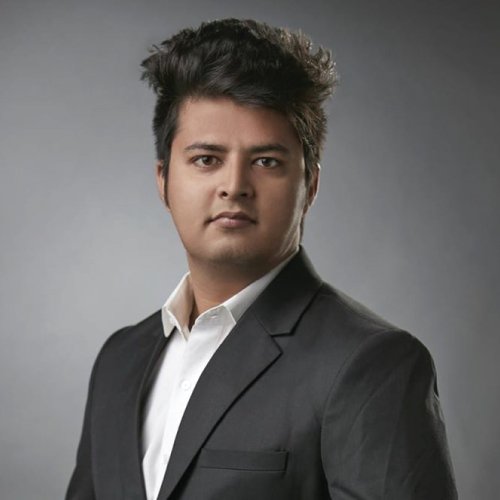 Article by
Harshit Gupta
Harshit Gupta is a digital marketing specialist and growth marketer with over 9 years of experience in the industry. He is the founder of NSDM INDIA (currently known as GrowthAcad), where he trained thousands of students over 5 years.
Harshit started his digital marketing journey with a startup called Hash & Karma, a performance-based digital marketing agency, where he scaled the company from zero to 50 clients in just two years. Connect him over LinkedIn & Twitter.