Finding the right digital marketing course can be as tricky as finding a needle in a haystack. A comprehensive course is essential to learn the right skills for a bright career.
With so many options available, finding the right courses can be tricky. Hence, we have decided to evaluate the courses available in the market to create this list of the 12 best digital marketing courses in India.
Read on to find the ideal course that aligns with your requirements and aspirations.
Top digital marketing courses at a glance
How we selected these courses
To find the best courses, we conducted an in-depth analysis of top-rated digital marketing courses. We considered the major aspects, such as:
Brand reputation

Third-party ratings

Industry Recognition

Depth of the curriculum

Placement assistance

Faculty expertise

Student feedback
By evaluating these features, we have curated this list of 12 top digital marketing courses in India.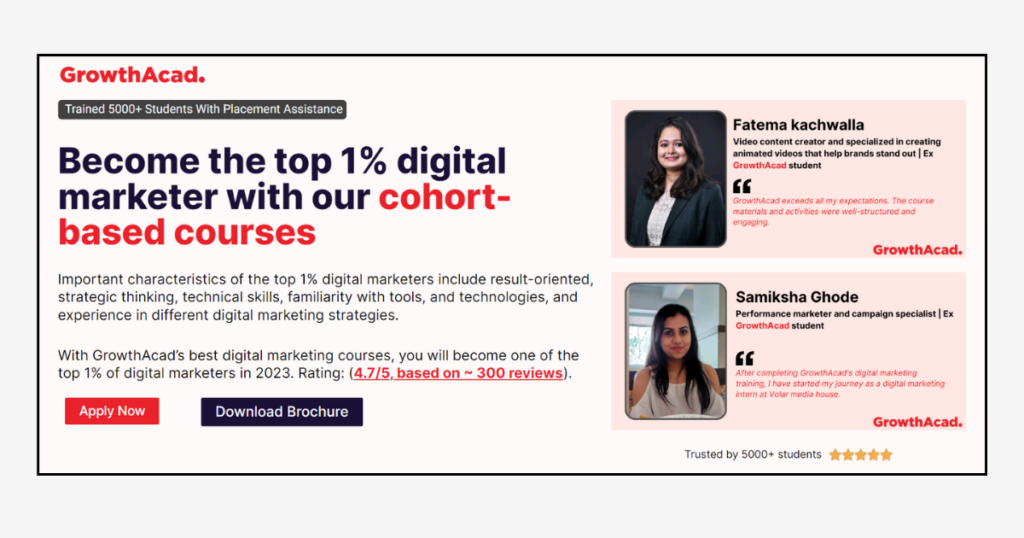 GMB Rating: 4.9
Placement assistance: Yes
Price: INR 19,999
Teaching mode: Online + Offline
GrowthAcad's Digital Marketing Specialist Program trains you to be the top 1% marketer.
They have cohort-based courses with a small batch size of 8 or fewer students. GrowthAcad focuses on helping you build practical skills with their hands-on training.
The course is extensive and covers often overlooked modules as well. This is the only course in the list that teaches you Growth Hacking and App Store Optimization, two must-have skills in today's constantly evolving digital marketing landscape.
Their fee is also reasonable considering the factor that they have one of the most in-depth courses in India. You will learn about AI and automation, two skills that save time and increase productivity.
And the best part is that you immediately get an internship or job opportunity after completing their courses. They provide placement assistance to top MNC companies and help you land a job by providing the necessary guidance.
Why join GrowthAcad's digital marketing courses
Small batches to receive proper individual attention and feedback

Placement assistance to top MNC companies

Taught by experts with 10+ years of practical experience

Be a part of a community of digital marketers

Work on real projects and learn from digital marketing case studies

Lifetime access to our course content modules

4.7/5 GMB reviews, based on 300+ reviews
Check out our students' success stories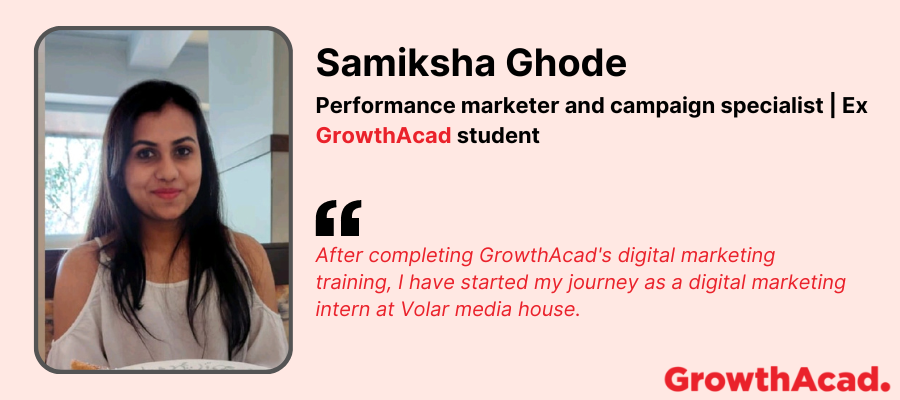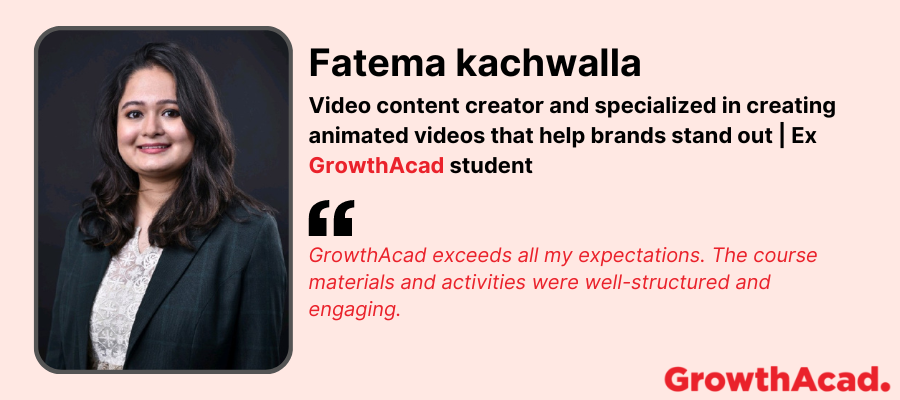 If you're looking for offline courses, apply now to:
2. IIM Skills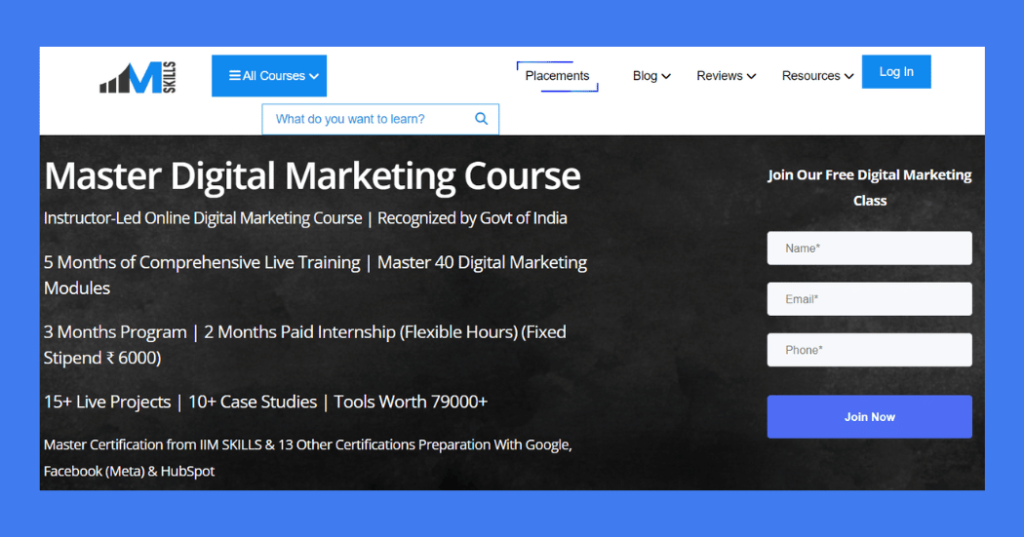 GMB Rating: 4.9
Placement assistance: No
Price: INR 34,900 + taxes
Teaching mode: Online
Description
It is a comprehensive online course that covers all the major elements of digital marketing. They offer 5 months of live training to help you get a deeper understanding of each aspect of digital marketing.
Their curriculum consists of 40 modules that cover all the required details about each branch of digital marketing. In addition, they provide tools worth INR 79,000 to help you learn them practically.
Once you finish their course, you can pursue a paid internship with them at a fixed stipend of INR 6,000. They also allow you to cancel if you don't like the course after the first session and give a full refund.
Pros
Work on live projects

Paid internship opportunity

Get certificates recognized by Google, Meta, and Hubspot
Cons
No placement assistance

Modules related to AI and AI tools are not available
3. UpGrad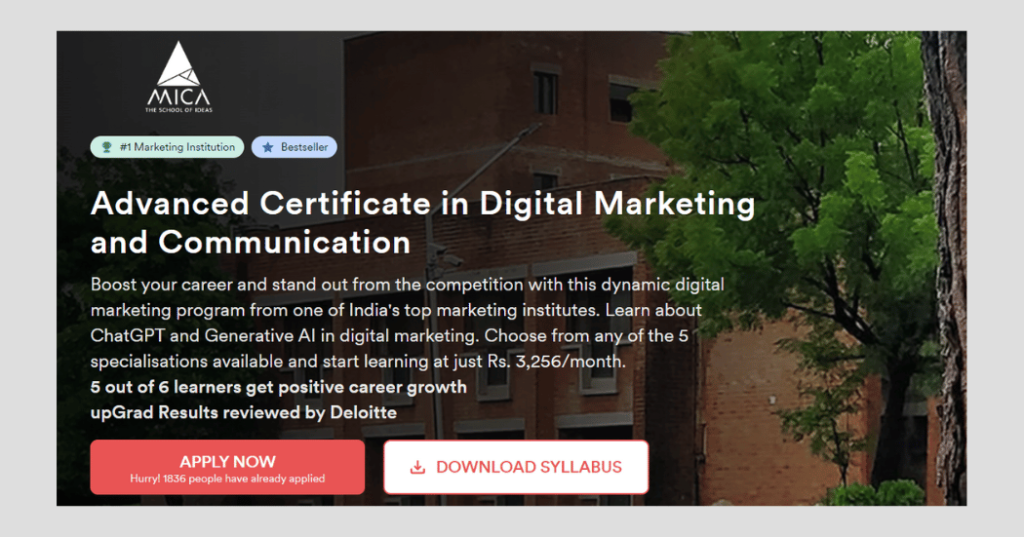 Placement assistance: Yes
Price: INR 1,79,000
Teaching mode: Online/Offline/Online + Offline
UpGrad's Advanced Certificate in Digital Marketing and Communication focuses on covering 5 digital marketing specializations, namely:
Branding and Communications

Marketing Analytics

Social Media & Content Marketing

Marketing Communications & PR

Generative AI
You can choose to pursue any one, two, or all of these specializations.
They provide a dedicated career coach and occasionally arrange mock interviews with hiring managers to polish your hard and soft skills. You also get the chance to work on live marketing campaigns.
Pros
Taught by leading faculty and industry leaders

Mock interviews by hiring managers
Cons
Minimum Bachelor's degree or equivalent required

Course fees might be a little high for some individuals
4. iiDE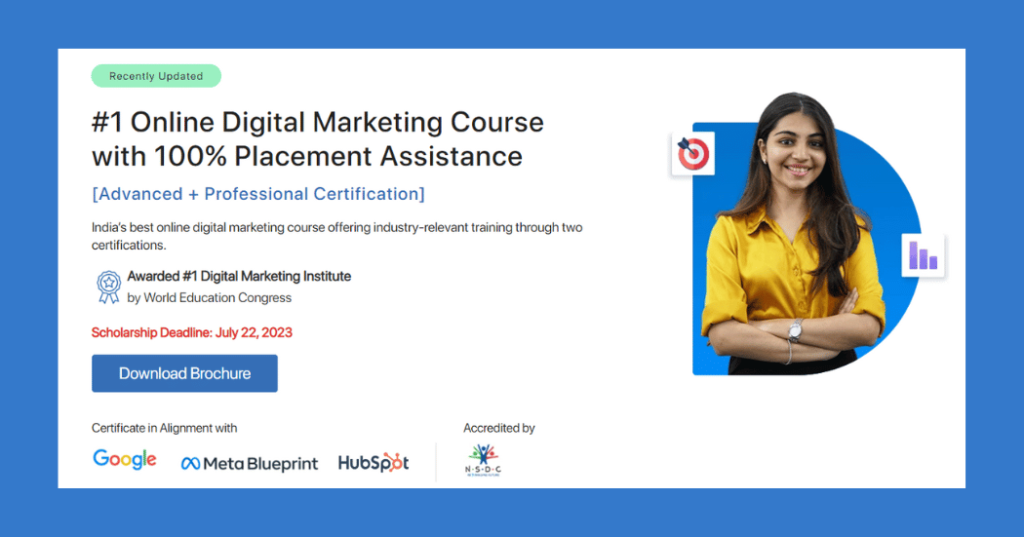 GMB Rating: 4.8
Placement assistance: Yes
Price: INR 1,60,000
Teaching mode: Online
iiDE has been awarded as the #1 digital marketing institute by World Education Congress. You get a chance to learn from industry experts who have worked in organizations like Google, Meta, HP, and Godrej.
Their curriculum also covers all the latest digital marketing trends, such as using AI tools. They provide 100% placement assistance. Many of their students work at renowned organizations like Nykaa, NP Digital, and Schbang.
They also offer scholarship grants of up to INR 30,000 for needy students.
Pros
The faculty consists of globally-recognized industry leaders

100% placement assistant

Support from the community via WhatsApp and Telegram
Cons
Course fees might not be affordable for some individuals

You need 10+2 to enroll in their course

Access to course material is only for 180 days
5. Digital Scholar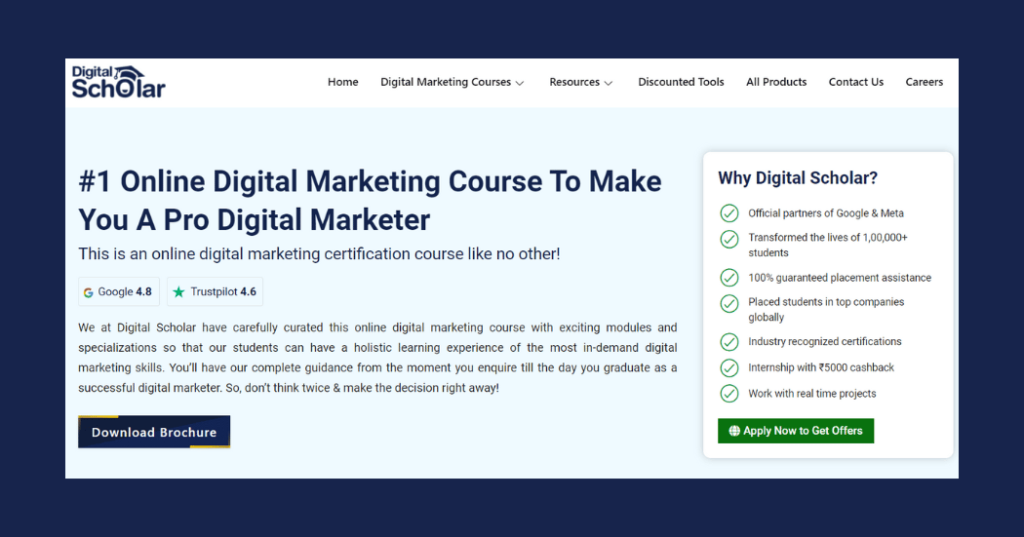 GMB Rating: 4.8
Placement assistance: Yes
Price: INR 75,000
Teaching mode: Online
It is a 4-month digital marketing course with a 1-month internship where you get paid based on the tasks you perform. They cover substantial aspects of digital marketing, such as automation and digital design.
Digital Scholar offers specialization modules to prepare you for the international freelancing landscape. If you don't want to pursue freelancing, they offer placement support to help you find a job.
You also get access to 40+ premium tools with them.
Pros
Guest lectures from industry leaders

Guaranteed paid internship opportunity

Free hosting for a year
Cons
The internship period is just one month
6. Simplilearn
GMB Rating: 4.5
Placement assistance: No
Price: INR 64,200
Teaching mode: Online
Simplilearn's Digital Marketing Specialist course was ranked #1 by Search Engine Journal. The digital marketing program is co-created with Facebook and contains sessions and AMAs by Facebook trainers.
They have also partnered with IIMJobs.com to provide access to the JobAssist program to support your job hunt. However, you must be a graduate and must successfully complete the Master's program by Simplilearn to become eligible for this program.
Pros
Expert training sessions by Meta trainers

Capstone projects with real-time data and a virtual lab for practical learning
Cons
An undergraduate degree or high school diploma is required to pursue the course

You cannot access their JobAssist program without a graduation degree (engineering or equivalent)
7. Delhi Institute of Digital Marketing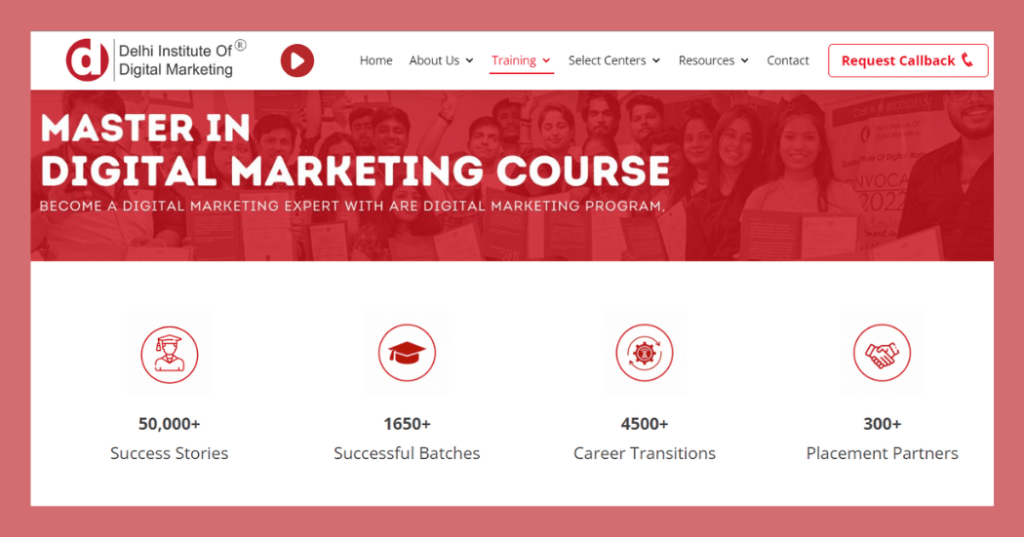 GMB Rating: 4.6
Placement assistance: Yes
Price: INR 57,218
Teaching mode: Online + Offline
DIDM offers a very in-depth digital marketing course with 50+ modules. They provide offline batches as well as access to their LMS for online learning.
They provide flexibility in terms of their offline classes. You can join regular batches and finish the course in 3 months. However, if you are a working professional or unavailable on weekdays, you can opt for weekend batches and complete the course in 6 months.
Pros
Placement support with an 80% success rate

Career counseling and interview preparation
Cons
Could not find AI modules in the course

Not enough data about the curriculum
8. Freelancers Academy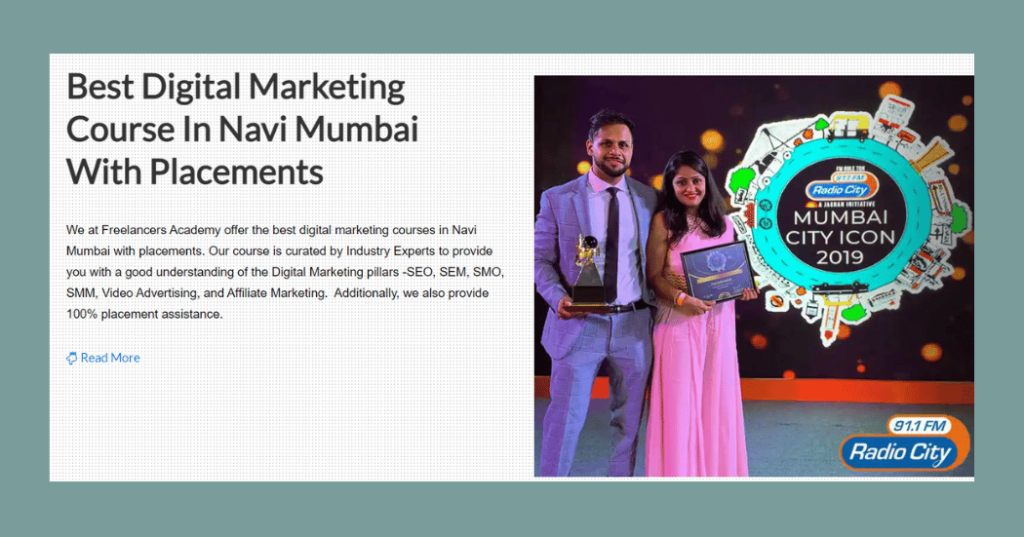 GMB Rating: 4.9
Placement assistance: Yes
Price: INR 30,000
Teaching mode: Online + Offline
Freelancers Academy's digital marketing course is designed by experts to provide hands-on training and real-world agency experience to the candidates. They provide two certificates after successfully completing their course.
One certificate is given as a testament to course completion.
The second certificate is a work experience certificate after completing an internship in their in-house agency.
They have partnered with multiple brands, such as Schbang, Accenture, Dentsu, and Digichefs, to provide placement assistance.
Pros
Placement assistance

Work experience certificate after completing an internship at their in-house agency
Cons
Some modules seem repetitive

The curriculum does not seem to contain information related to the latest digital marketing developments
9. National Institute of Digital Marketing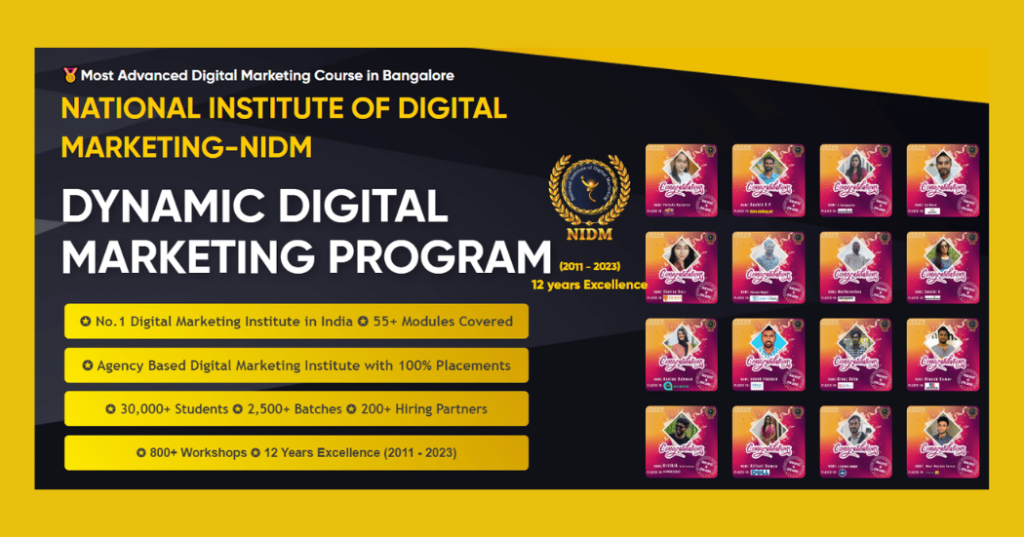 GMB Rating: 4.7
Placement assistance: Yes
Price: INR 30,000
Teaching mode: Online/Offline/Online + Offline
NIDM claims to be the most advanced digital marketing program. They offer placement assistance in MNCs, something not many digital marketing institutions can promise you.
Their course contains 50+ modules and offers access to tools worth INR 5 lakhs, such as Canva Pro lifetime membership.
Their teaching method consists of live practical sessions and working on real-time projects. Some of their past students have gotten opportunities in big brands, such as Amazon, Zomato, Oyo, Cognizant, and Kotak Mahindra Bank.
Pros
Student support for 2 years

Paid internships and placement support
Cons
The curriculum looks a little outdated
10. Kraftshala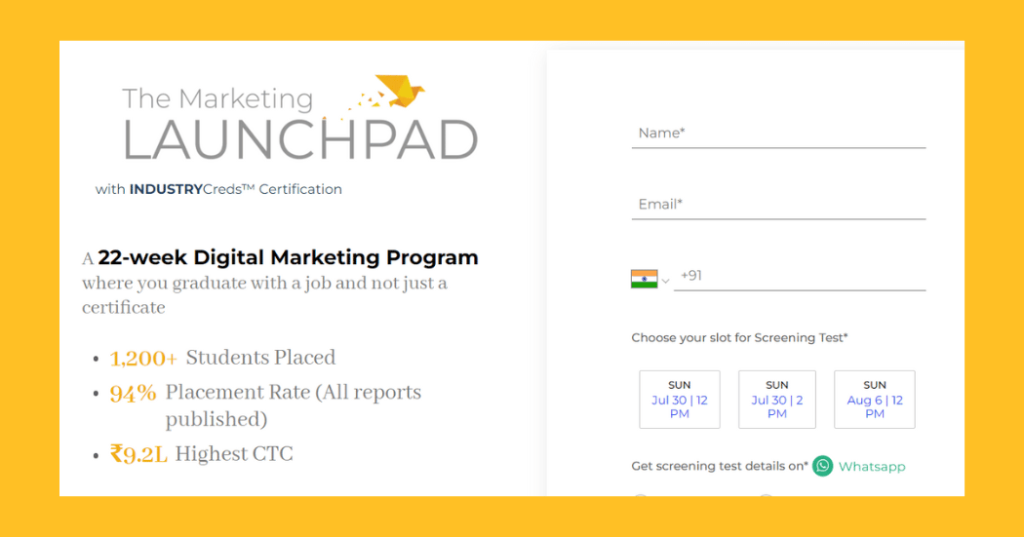 GMB Rating: 4.3
Placement assistance: Yes
Price: INR 95,000 + 18% GST
Teaching mode: Online
Kraftshala's Marketing Launchpad is a 22-week practical digital marketing program. They teach you in small batches to give proper attention and feedback to every individual. After completing their course, they claim to get you a job with a CTC of INR 4.5 L or more.
They have more than 320 placement partners and have placed over 1200 students so far. If you can't find a job after 15 months of completing the course, they refund 60% of your fees.
Pros
Placement drive to help you find job and internship opportunities

Minimum job package of INR 4.5 lakhs or they refund 60% of the course fee
Cons
The curriculum is limited and does not contain many vital aspects of digital marketing

The course is divided into two specialization groups, each having several essential aspects of digital marketing
11. DigitalVidya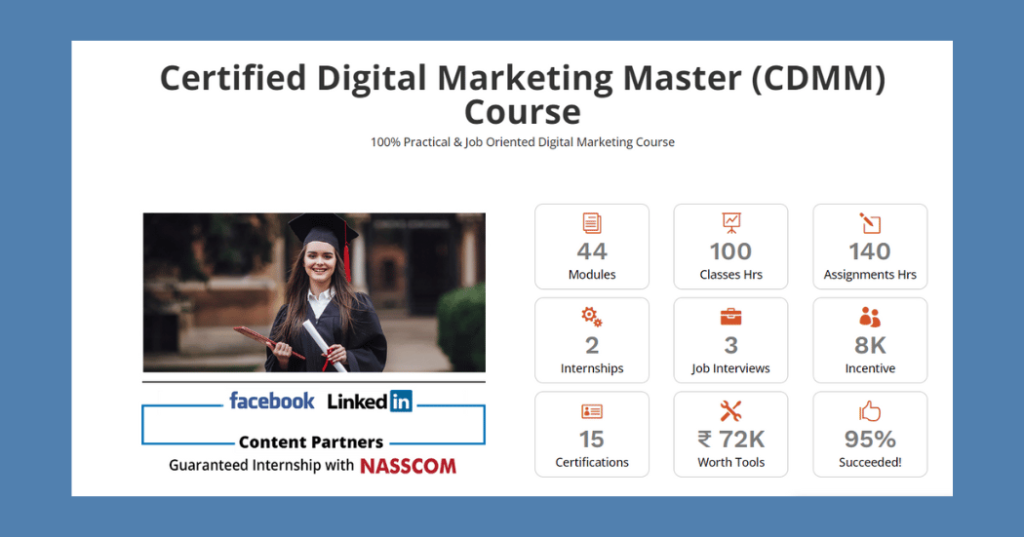 GMB Rating: 4.1
Placement assistance: Yes
Price: INR 49,900 + 18% GST
Teaching mode: Online
DigitalVidya's Certified Digital Marketing Master (CDMM) course is an extensive digital marketing program with 44 modules and 240 hours of learning. They provide INR 8,000 worth of incentives upon successful completion of the course.
They have a dedicated placement cell to help students with interview assistance and finding internship and job opportunities. They cover all the significant elements of digital marketing and even have a dedicated module for ChatGPT.
They have affiliations with brands like LinkedIn, NASCOM, and VSkills. DigitalVidya is also an official partner of Microsoft India and Google.
Pros
100% unconditional money-back guarantee

Incentives worth INR 8,000
Cons
Certain aspects of digital marketing are not taught in-depth
12. Digital Academy India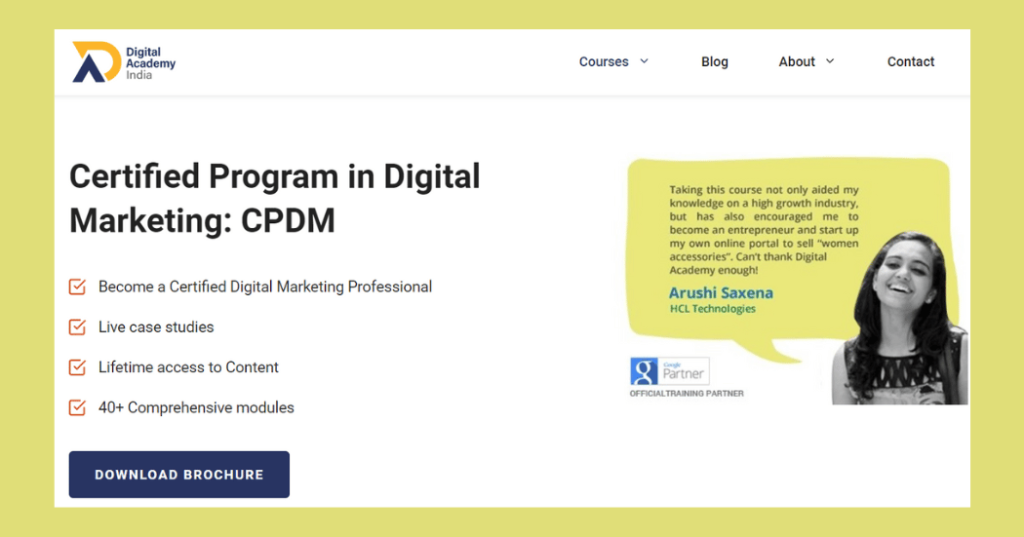 GMB Rating: 4.6
Placement assistance: No
Price: INR 34,900 + 18% GST
Teaching mode: Online
Digital Academy India offers a 'Certification Program in Digital Marketing' that offers project-based teaching methodology so the candidates can learn both the strategy and execution. It is a 20-week program.
The course curriculum feels it lacks a few branches of digital marketing. However, it makes up for it by providing in-depth training for the available modules. The entire course is broken down into 6 modules.
The course lets you work on live case studies and also offers lifetime access to the training material. They also offer on-demand workshops for businesses that want to train their employees in digital marketing.
Pros
Available modules focus on in-depth training

Flexible timings as you can take classes on weekdays or weekends as you prefer

On-demand workshops for businesses
Cons
The curriculum does not focus on the latest Google updates

The curriculum lacks a few crucial branches of digital marketing

No placement support
Which is the best digital marketing course?
We have analyzed the above courses based on the reviews, available curriculum, faculty, and alumnus. We haven't taken these courses personally, which is not possible considering the total duration.
Therefore, we may not pass the judgment which is the best among all of them. However, we can confidently say that GrowthAcad is definitely on the top as we learn from our student feedbacks and reviews. Our trainers such as Harshit Gupta, Rishi Kapal, Govind Chandak, and Kapil Thorat have trained more than 1000+ students so far with an average rating of 4.8.
GrowthAcad's Digital Marketing Specialist program focuses on practical learning rather than theoretical. The faculty consists of digital marketing practitioners who constantly work in the digital marketing landscape and are aware of modern trends and transformations.
You work on your own live projects and gain the required skills as well as experience, which is not readily available with most courses. GrowthAcad also organizes guest lectures from top industry leaders. Their alums now have a secure career or source of income after finishing the course.
What is the digital marketing course fees?
Digital marketing course fees can vary from INR 15,000-30,000. However, more advanced and in-depth courses can cost more, between the range of INR 50,000-3,00,000. Usually, advanced courses offer tools and cover more skills than an introductory course.
To explore detailed information on digital marketing course fees, we have prepared a comprehensive guide covering the fee structures of various courses.
How to get DM internships in India in 2023?
You must first learn the required digital marketing skills before trying to get an internship. It is recommended to take a well-structured course, such as GrowthAcad, to acquire practical skills and hands-on experience.
Next, you can create your resume and start reaching out to recruiters. A live project is not mandatory, but it helps when you're looking for internship opportunities with reputable agencies and brands.
What is the digital marketing course eligibility?
Anyone with internet access and a computer/laptop can learn digital marketing. However, certain institutes have eligibility criteria, only giving admission to graduates or high school pass outs.
Therefore, checking with the concerned institute before enrolling in their courses is recommended. GrowthAcad does not follow any such criteria. They have students from various age groups and professions.
They allow admission to students, undergraduates, IT professionals, homemakers, and anyone wanting to build a digital marketing career.
Check out our comprehensive guide to understand the digital marketing course eligibility requirements in detail.
How much does a digital marketing earn in India?
The earning potential of a digital marketer in India depends on a number of factors, such as skills, expertise, industry, location, and experience. On average, a digital marketer in India can earn a competitive salary ranging from INR 3-7.5 lakh per annum.
A digital marketing manager with 8-10 years of experience can even draw a salary of up to 18 LPA. To delve deeper into the earning prospects and factors influencing digital marketing salaries in India, refer to our guide on how to build digital marketing career in India.
What is the digital marketing course syllabus?
The digital marketing course syllabus can differ from one institution to another. However, there are certain basics that every good curriculum covers. For instance, GrowthAcad's Digital Marketing Specialist Program covers all the necessary modules required to become the top 1% digital marketer.
The modules covered are:
Introduction

Website Planning & Analysis

SEO

SEM

Social Media Marketing

Web Analytics

Google Tag Manager

Display Advertising

Video Advertising

Ecommerce Marketing

Mobile Marketing

App Store Optimization

Content Marketing & Blogging

Online Reputation Management

Affiliate Marketing

Email Marketing

Influencer Marketing

Marketing & Sales Automation

Growth Hacking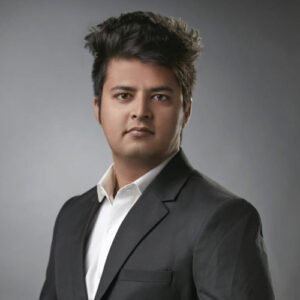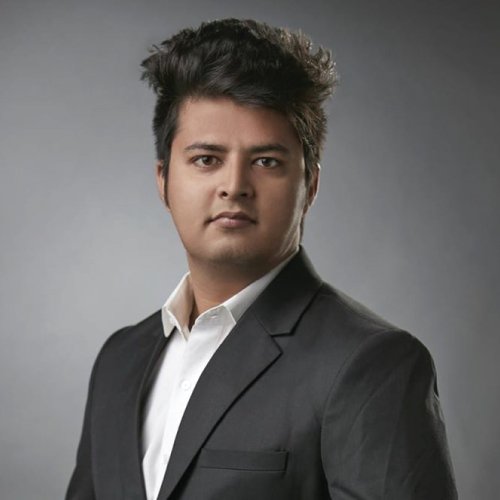 Article by
Harshit Gupta
Harshit Gupta is a digital marketing specialist and growth marketer with over 9 years of experience in the industry. He is the founder of NSDM INDIA (currently known as GrowthAcad), where he trained thousands of students over 5 years.
Harshit started his digital marketing journey with a startup called Hash & Karma, a performance-based digital marketing agency, where he scaled the company from zero to 50 clients in just two years. Connect him over LinkedIn & Twitter.